Ex-North Charleston officer indicted on federal charges in Walter Scott death
Eliott C. McLaughlin, CNN | 5/11/2016, 1:25 p.m.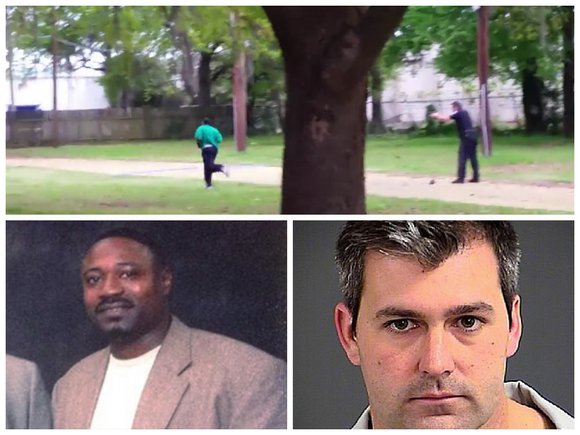 (CNN) -- A grand jury Wednesday indicted former North Charleston, South Carolina, police officer Michael Slager on federal charges in last year's shooting death of Walter Scott.
Slager was charged with deprivation of rights under the color of the law, use of a weapon during the commission of a violent crime and obstruction of justice.
Slager, who is white, already had been charged locally with murder and fired from the police force after being caught on video shooting the 50-year-old African-American father of four in the back following a traffic stop. He fired eight times, hitting Scott five times.
The deprivation of rights charge returned Wednesday alleges that Slager violated Scott's right to be free of unreasonable force, while the weapon charge says simply that Slager employed a .45-caliber Glock in depriving Scott of his rights
The obstruction charge alleges that the former officer misled a South Carolina Law Enforcement Division investigator by saying he shot Scott while Scott was moving toward him with the officer's Taser.
The intent of this allegedly false statement was to "hinder, delay and prevent the communication to a federal enforcement officer and federal judge of truthful information," the indictment says.
'This is a great day'
An attorney for Scott's family said, "This is history in so many ways. This never happens."
Citing numerous cases in which the federal government declined to take action, including the deaths of Michael Brown and Trayvon Martin, lawyer L. Chris Stewart said Scott's family was hopeful that their loved one's case was a watershed.
"If this can be the turning point, where the Justice Department is going to step in and help these families, then this is a great day," Stewart said. "Whoever had input in making that call, I'm really proud of our government right now."
Asked how Scott's parents, Walter Sr. and Judy, reacted, Stewart said they were thankful but stoic at first.
Once Stewart explained the gravity of the decision and "its ramifications on future Walter Scotts ... (Judy) just wanted to pray and said, 'Thank, God.' "
'He took my Taser'
Following the April 4, 2015, shooting death, it was a matter of days before Slager's superiors in the North Charleston Police Department charged the 34-year-old officer with murder, and a couple of days more before he was fired from the force.
Video showed the two men talking, their words inaudible, before Scott took off running. Slager assumed a shooting stance and opened fire.
"Shots fired and the subject is down," Slager said, according to police reports. "He took my Taser."
The officer has said through his attorney that he followed all protocols and procedures.
Chief, mayor distance selves
The video, first obtained by The New York Times, told North Charleston Mayor Keith Summey all he needed to know, he said.
"I can tell you that as the result of that video and the bad decision made by our officer, he will be charged with murder," Summey told reporters. "When you're wrong, you're wrong. And if you make a bad decision -- don't care if you're behind the shield or just a citizen on the street -- you have to live by that decision."
Police Chief Eddie Driggers told CNN that Slager pulled Scott over because the brake light on his car wasn't functioning.
"I want to believe in my heart of hearts that it was a tragic set of events after a traffic stop," Driggers said. "I always look for the good in folks, and so I would hope that nobody would ever do something like that."
Later, Driggers would tell reporters, "I was sickened by what I saw."