Community Calendar 5/12 - 5/18
5/12/2016, midnight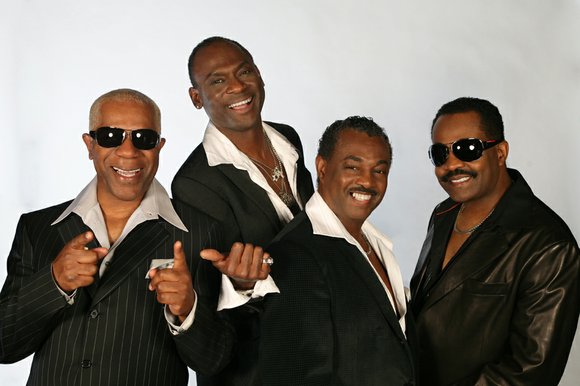 The Temptations and the Four Tops, Friday, June 24 at 8 p.m., NYCB Theater at Westbury, 960 Brush Hollow Rd., Westbury, N.Y. For information, call 516-334-0800 or visit ticketmaster.com.
COMEDY
Martin Lawrence, Saturday, May 14 at 8 p.m., Barclays Center Brooklyn, 620 Atlantic Ave., Brooklyn, N.Y. For information, call 917-618-6700 or visit www.barclayscenter.com.
Trevor Noah, Saturday, May 14 at 8 p.m., The Grand Theater at Foxwoods Resort Casino, 39 Norwich Westerly Rd., Mashantucket, Conn. For information, call 800-200-2882 or visit ticketmaster.com.
Phyliss Yvonne Stickney, Renaissance woman, comedienne, actress, writer, director and producer will dish "Food for Thought," Saturday, May 14 at 8 p.m. and 10 p.m., Ashford & Simpson's Sugar Bar, 254 W. 72nd St., New York, N.Y. For information, visit:www.advocates4dia.com or call 212-579-0222.
BOOKS
Reading Circle: "Revolutionary Integration: A Marxist Analysis of African-American Liberation." What will it take to truly end racism in the U.S.? This groundbreaking text highlights the crucial role of Black workers, women and LGBT people in the struggle for an integrated movement against not only race oppression but also all injustice and exploitation. Book available on site and online. May 19 and June 2. 7 p.m. to 8:30 p.m., Freedom Hall, 113 W. 128th St., Harlem. Admission is free. For information, call 212-222-0633 or email nycfsp@gmail.com.
FILM
The incomparable Don Cheadle directs and stars in "Miles Ahead," highlighting legendary jazz trumpeter and musical genius, Miles Davis. Check theatres for listings.
COMMUNITY
Take a day off to honor Brother Malcolm X's 91st birthday anniversary, with a Black Power march/shut down of the Harlem Central Business District. Assembly is Thurday May 19 at noon at the Harlem State Office Building on 125 Street. There will be a three-hour commercial moment of silence, from 1 p.m. to 4 p.m. for a brother who gave his life to his people. Also join a "Brother Malcolm" evening forum at the Harlem State Office Building on "Which Way Forward?" in this election year. For information and endorsement call 718-398-1766.
"Responding to Challenging Behaviors at School, Home and in the Community," Thursday, May 26, 1770 Stillwell Ave., 2nd Floor, Bronx, N.Y., 10 a.m. to noon. This workshop discusses various underlying factors leading to challenging behaviors, as well as specialized techniques for identifying common triggers and the most successful approaches for decreasing and eliminating challenging behaviors. Workshops for parents, professional and caregivers. No children please. Free. To register, call 718-436-7979.
Hear Imhotep Gary Byrd on 107.5 WBLS-FM weekly with "Express Yourself," Sunday evenings from 7 p.m. to 9 p.m. and simulcast over WLIB 1190AM. The full show can also be heard on HD radio at WBLS-HD2 and at WBLS.com, WLIB.com and iHeartRadio. IGB is also heard on WBAI-FM 99.5 with Radio GBE: "The Global Black Experience" and "The Global Beat Experience," Fridays 6 p.m. to 8 p.m. Both shows are archived online at www.wbai.org. To contact us for bookings or to reach us about your event or for comments, email igbexp@gmail.com, find us at Imhotep Gary Byrd on Facebook or follow us on Twitter @GBELIFE or call 212-592-3279.