Community music school on UWS welcomes students regardless of financial status
JHODIE-ANN WILLIAMS | 5/12/2016, 2:38 p.m.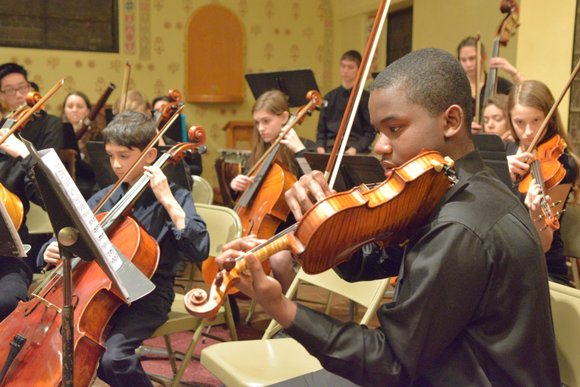 If it's a matter of paying next month's rent or enrolling your child in music lessons, guess where the money is going? And between whites and Blacks or Latinos, guess who has to deal with that dilemma the most?
Bloomingdale School of Music has dedicated more than 50 years to helping families not have to sacrifice one for the other by allocating 14 percent, nearly double that of similar organizations, of its annual operating budget to funding scholarships, which mostly target students of color.
As art education continues to disappear from our public school system, families are left with only the option of enrolling their kids in activities outside of school. Forbes recently released a study that shows white families have 16 times the wealth of Black and Latino families. Finding extra money in the household budget for "nonessentials" is oftentimes impossible. But activities such as arts have proved to be essential for developing lifelong skills that are needed to be successful in multiple areas of life—ending stereotypes and leveling the playing field.
"Unfortunately, politics doesn't see it that way right now," said Erika Floreska, the new executive director of Bloomingdale School of Music, about music education access in schools. "All studies show and all science shows that students who get exposed to music activate both the right and left [sides of] the brain. It builds skills and discipline that help in math, reading, science and creativity."
Out of the nearly 650 weekly students—including adults—about 25 percent are Black and Latino. The nonprofit school has been committed to offering accessible and affordable private and group lessons to its students regardless of age, ethnicity or economic status since its humble beginnings in the basement of the West End Presbyterian Church. It was there the founder, David D. Greer, began offering lessons for as little as 50 cents in 1964.
Twenty percent of Bloomingdale's students receive financial assistance from one of the three scholarship programs that the school offers: need-based financial aid; Project Bridge, a scholarship for middle and high school students who currently play in their school's ensemble; and the Music Access Project, an intensive pre-college training program. The need-based scholarships are for families who can prove a household income of less than $40,000 a year. Both Project Bridge and MAP are mostly merit based.
To fund its scholarships, Bloomingdale has several fundraising events. Floreska and directors before her never wanted to be in a position where they had to turn a student away because he or she could not afford the tuition.
On Monday Bloomingdale held its annual Notes From 108th Street scholarship fundraiser hosted by ABC's "Eyewitness News" anchor Bill Ritter, where they raised $50,000. Students and faculty performed and spoke about the importance of having access to a place like Bloomingdale.
Bloomingdale honored the Columbia Community Service at Columbia University for its support of nonprofits in the Upper West Side for more than 60 years. Faculty and staff at Columbia University donate money and then the university awards grants to different nonprofits within the community. The university has given scholarship awards to Bloomingdale for the past 30 years totaling more than $100,000.