Soft spring and summer 2016 styles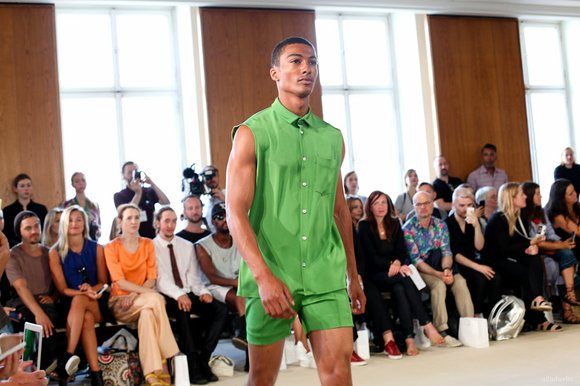 Two young fashion designers showed contemporary sportswear collections at Mercedes Benz Fashion Week Previews in Berlin. Their clothes were perfect for summer travel, work and evening. Anja Gockel focused on a multi-label concept with adaptable accessories. Hien Le concentrated on discreet cuts and subtle details.
Although her collection was made in Germany, Gockel's inspiration for the label was the world. The look is cross-generational with a cutting edge. "I tell stories with my collections, which are emotional," Gockel explained. She designs for the modern woman. Her customers deal with making different appearances during the day, from international meetings to conferences to after-work cocktails. Her fashions stand for an extraordinary yet feminine appearance that takes women through their busy days with style. Note the details in her stockings and the zig-zag patterns in her dresses, skirts and pants.
Gockel set up her flagship store in downtown Cologne, Germany in May 2015. One of the shop's special features includes the designer's multi-label concept. For the best outfits, it's all about the accessories. Clients walk out of the shop dressed from head-to-toe.
Before starting his own business in 2010, Hien Le acquired business experience in different patches of the fashion industry. His 2016 collection hit the mark of simplicity, sophistication and independence. Making his debut at Mercedes Benz Berlin Fashion Week, Le was nominated as the "best newcomer" by the prestigious international fashion trade magazine Sportswear International.
For men, there are soft silk separates, including short-sleeved and sleeveless shirts and pants in both long and short (Bermuda-length) cuts. Cool colors include mint green, white, light blue and light grey. The fit is quite loose and comfortable in easy-flowing fabrics. Le's women's looks are above-the knee skirts, shorts and dresses in wrap shapes.
Besides concentrating on discreet cuts and a subtle application of details, Le maintains his claim to manufacture clothing that combines diligent design with accurate workmanship. His clothes are also produced in Germany, but the label's collection is available in the U.K., Switzerland and Germany.