SUNY Old Westbury holds Convocation to Honor Excellence
OLAYEMI ODESANYA | 5/12/2016, 2:33 p.m.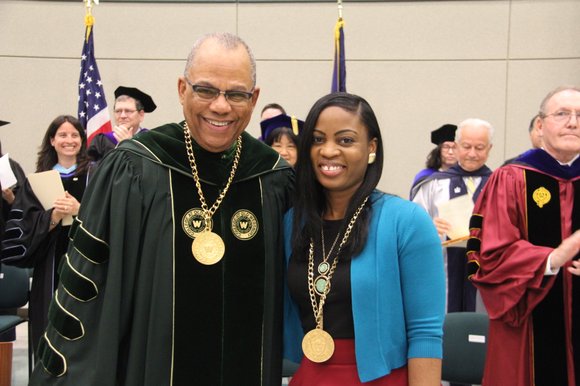 The beautiful expansive campus of SUNY Old Westbury just held its annual Convocation to Honor Excellence.
Major academic honors were bestowed upon hardworking, deserving students as fellow students and family applauded their tremendous achievement. The event was held April 29, 2016.
To ensure continued success, this week Student Assembly President and SUNY Trustee Thomas D. Mastro gave support for the College in New York State: Affordability and Success Initiative.
"The Student Assembly applauds the Senate Democratic Conference on their 15-point proposal to help reduce costs and improve success measures for those looking to pursue a college education," said Mastro. "For too long, students have paid more and more without adequate support from New York State and local counties. Student loan debt outweighs credit card and auto loan debt combined, and is unable to be refinanced. Higher education, and SUNY in particular, should be as accessible as possible. We should help to provide the opportunity for people to build a better life for themselves and their families, without forcing them to take on exorbitant debt. Just as important are the critical steps being taken to improve the quality and success of higher education throughout the state. On behalf of the 465,000 students of the largest system of public higher education in the country, I want to thank leader Andrea Stewart-Cousins and her colleagues for taking such a strong stand on these important issues."
The Student Assembly of the State University of New York is an organization made up of student leaders elected by their peers from across SUNY's 64 campuses. "Empowering students throughout the state, the SUNY SA is committed to student life and ensuring the representation of its members on the state and national level as well as throughout the SUNY system," their statement notes.