Treachery: Corrupt Cuomo or debased de Blasio?
Herb Boyd | 5/12/2016, midnight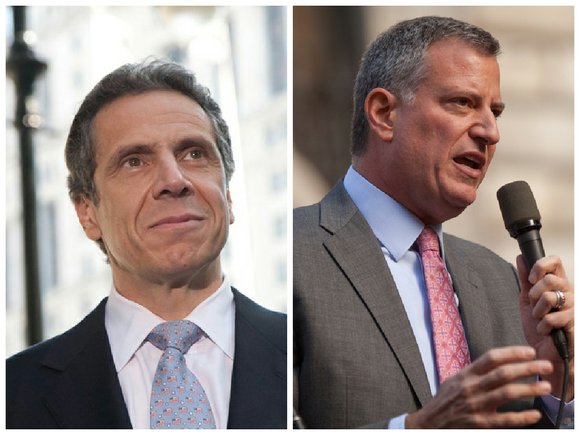 The race that the nation, if not the world, is watching with interest is one looming between Hillary Clinton and the "presumptuous" Donald Trump, as Clinton called him. But there's another race cropping up on the legal track. Who will be the first to yield to charges of corruption, Mayor de Blasio or Gov. Cuomo?
Last month, U.S. Attorney Preet Bharara, in a speech at the University Club in midtown Manhattan, said, "We will keep looking hard at corruption in our legislative branch, as we have been. But not just there. In the executive branch, too, both in the city and in state government."
That announcement has become more than a warning.
In recent weeks, Bharara has begun an investigation of de Blasio's campaign's funds that has focused on two businessmen who used gifts to gain favors. A probe is also underway to determine the extent of the involvement of an aide to Cuomo in corruption in Buffalo.
According to several reports, the two businessmen, fundraisers for de Blasio, paid to play with police officers in exchange for escort services and security. Recently, de Blasio's fundraising lawyer said the fundraising group Campaign for One New York will no longer "cooperate" with the Joint Commission on Public Ethics, claiming the commission has ties to Cuomo.
A letter from the lawyer, Laurence Laufer, stated that the query by the commission had "become a blatantly political exercise by an agency whose very independence is deeply in question." The probe was initially to determine whether the Campaign for One New York had violated lobbying laws by failing to register with the state. Now, Laufer charges, the investigation is about fundraising, which he insists is outside of its jurisdiction.
Laufer denounced the investigation, characterizing it as a "witch hunt," and a "fishing expedition."
Bharara is reportedly looking into the situation, although it's mainly an issue for the Manhattan DA, Cyrus Vance Jr., who will determine if there was wrongdoing by the Campaign for One New York in doling out funds for State Senate candidates.
As de Blasio awaits to see if he or the head of the Board of Elections is indicted, Cuomo has been alerted that his top aide for years, Joe Percoco, is targeted by Bharara for his possible involvement in a Buffalo economic development scheme and enriched himself through the deal to the tune of $150,000.
Cuomo, in a possible pre-emptive move to protect himself, has ordered his own investigation into the matter.
If criminal charges are brought against Percoco, it could be detrimental to Cuomo, putting the brakes on his re-election plans for 2018. It could also end his chances of speaking at the Democratic National Convention this July in Philadelphia.
With two powerful elected officials, Dean Skelos and Sheldon Silver, already convicted and facing prison, it would be a devastating blow to the city and state if either de Blasio or Cuomo is tainted by the investigations.