Congratulations graduates
Christina Greer, PH.D | 5/19/2016, 3:45 p.m.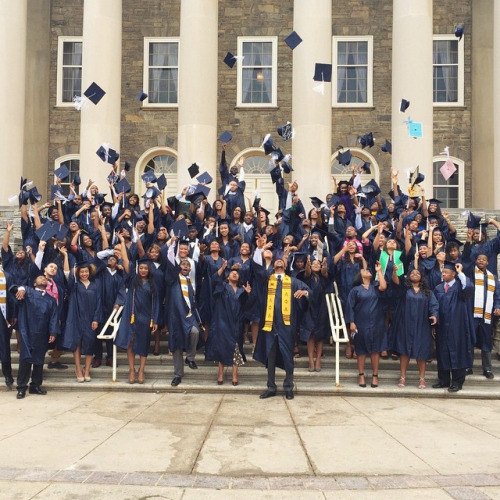 This time of year always warms my heart. It seems everywhere I turn there is someone graduating from elementary school, high school, college or a graduate program. I absolutely love seeing families dressed up, carrying flowers and cameras and beaming with pride as their loved one walks next to them in cap and gown. So many families have gone through so much for just one person to walk across that stage. For those of us who come from communities and groups that have struggled and suffered for generations, the promise of a graduation is a moment that lives with families forever.
My father used to always tell my sister and me that education was the one gift he could give us that no one could ever take away. Graduations in our family were affairs where relatives came from far and wide. They rearranged schedules, took time off of work and got on planes, on trains and in automobiles to see us walk across the stage, shake someone's hand and then return to our seats. A process that took no more than ten seconds was cause for months of family planning, travel and expense. When I was younger I just didn't get it, but now I do.
As a faculty member at Fordham University, I try to attend graduation as often as possible. I think it is important for families, especially young children, to see women and people of color in their "fancy robes," which represent their elite universities and the degrees they have obtained.
When I am in my robe, I am always in awe of the number of strangers who stop me on the street to wish me a heartfelt congratulations. I often don't correct people to tell them I am going to give out degrees instead of receiving one on that particular day. Instead, I allow myself to take the compliment and reflect on my achievement. I think about how it was once illegal for Blacks to learn how to read. I think about the segregated schools and the lack of resources so many Blacks faced (and still face) in education. And despite so many obstacles, we have persevered.
Educational attainment is a collective effort. All of us have had a teacher, professor, relative, coach or someone who challenged us, encouraged us and supported us outside of the classroom. As much as a graduation is a time to celebrate the graduate, it is definitely a time to acknowledge family and community members who have made sure this celebratory day would one day come. So I am sending my most sincere congratulatory wishes to all of the graduates and their families this season. May you continue to ask the questions that will strengthen our future as well as reflect on the past sacrifices and hard work of so many people.
Christina Greer, Ph.D., is an Associate professor at Fordham University and the author of "Black Ethnics: Race, Immigration, and the Pursuit of the American Dream." You can find her on Twitter @Dr_CMGreer.