DanceAfrica 2016: A celebration in movement, rhythm and spirit
Zita Allen | 5/19/2016, 4:57 p.m.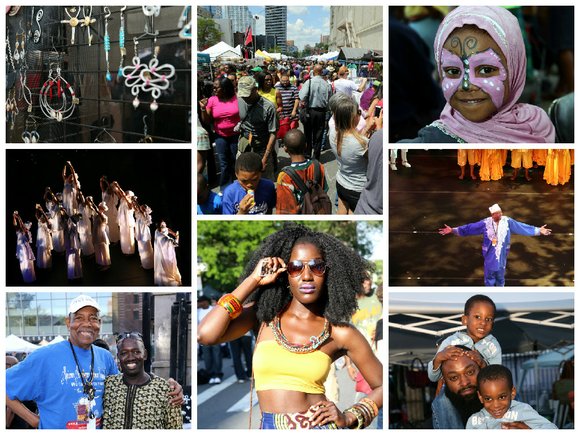 This Memorial Day weekend, the 39th annual DanceAfrica celebration promises to fill the Brooklyn Academy of Music and its surrounding community with a dynamic display of dance, music, film, food, fashion and more as it has done since it was founded in 1977 by Baba Chuck Davis, but this time there's something different. The nation's largest festival dedicated to African dance and culture now has a new artistic director, Abdel R. Salaam.
Two years ago, after discussing a succession plan with DanceAfrica's Council of Elders, Davis announced that he was "happily moving aside to allow for fresh, new ideas from my 'Dance son,' Brother Abdel R. Salaam." This year, Salaam's first at the helm of DanceAfrica, he will seek to strike the delicate balance between time-honored tradition and bold new ideas.
"Chuck is my Dance Baba, my dance father," Salaam says humbly, offering a condensed version of his experience, which includes Lehman College's fine arts program and studying or dancing with Thelma Hill, Eleo Pomare, Fred Benjamin, Ronald Pratt, Louis Falco, Juan Antonio and Paul Sanasardo."I met Chuck in the summer of 1970. I had never done any traditional African dance and was just starting my dance career through my dance mother, Joan Miller, a fierce feminist and sociopolitical progressive who was way ahead of her time."
He joined what was then the Chuck Davis Dance Company and caught the eye of critics impressed with his powerfully athletic presence. Gradually, Salaam worked his way up through the ranks, becoming Davis' dance captain and assistant artistic director, even performing in the first DanceAfrica festival. Davis encouraged him to spread his wings. "Chuck opened the door for me to begin choreographing," said Salaam.
In 1981, Salaam struck out on his own, founding his own company, Forces of Nature, and making forays into arts education, theater, music, fashion and more, with each inspired and informed by frequent trips to Africa. Salaam wants his rich life and artistic experience to be reflected in his work as artistic director of DanceAfrica.
He recalled that when the time came to pass the torch, Davis said to him, "You do you. I don't want to see a Xerox copy of Chuck Davis. DanceAfrica has to be continually created."

Salaam also recalled, "One of the reviewers said, 'It's difficult shoes for Abdel Salaam to fill.'" He added, "Well, no, it's not 'cause I ain't trying to fill those shoes. Chuck, now artistic director emeritus, still has much to contribute. He will be here this year doing his master of ceremonies thing.
"My mission in pulling together this year's program is to push the boundaries of DanceAfrica to bridge the Diaspora, the contemporary and the traditional voice of the African Diaspora and demonstrate to present and future audiences the infinite possibilities of what this culture has to offer in the development of our society. We need to understand how this traditional and contemporary culture from the African Diaspora can help us heal the problems here and in Africa."
Salaam said DanceAfrica 2016 will continue to showcase the Diaspora's diverse culture, honor the elders and enhance a sense of community, all while bringing something new to the table, namely, his passion for the fusion of traditional African dance styles with modern, hip-hop, ballet and more.