Emmy winner Joe Morton takes the stage as Dick Gregory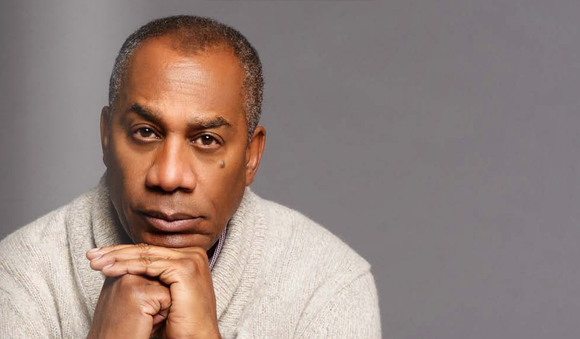 Joe Morton, who recently won an Emmy for his portrayal of Eli Pope on ABC's "Scandal," has returned to the New York stage, playing stand-up comedian and activist Dick Gregory in "Turn Me Loose" at the Westside Theatre, 407 W. 43rd St. The play, written by Gretchen Law, is presented by John Legend and Get Lifted Film Company. Legend, who is one of the producers, also composed an original song for the play. The show opens May 19. Morton took the time to speak with the AmNews about his return to the New York stage after five years and his new role.
AmNews: How does it feel to be back after five years?
JM: It feels wonderful being back in the city and back on stage, especially doing a play about Dick Gregory. There's almost nothing more exciting than doing a play in NYC. The energy of the city feeds the play.
What attracted you to this role?
The life of Dick Gregory. Dick is truly a one of a kind and the last of a generation who fought and continues to fight for civil rights. His humor is spectacular, as is his view of the world.
What is the challenge playing Dick Gregory and how did you prepare to take this role on?
The greatest challenge was to build a character who is a stand-up comedian. Stand-up is a very difficult thing to accomplish. Also, creating a clear distinction between Mr. Gregory in his 20s and in his 80s was a considerable task, physically and vocally. My preparation was to read his biography, listen to his albums and study his appearances vis-a-vis YouTube, and then apply what I saw/learned to the character in the script … although this is not a Dick Gregory impersonation. This is an embodiment/interpretation of who I think this character is.
Have you spoken to Mr. Gregory, now 83 years old, and is there an added pressure portraying someone who is still alive and still an activist?
I have spoken with Mr. Gregory on a few different occasions. There is always pressure playing someone who is still alive because you are, in some ways, responsible to tell their truth. And truth is sometimes a relative entity, and always evolving.
As you researched Mr. Gregory's life, what stood out for you and what aspects of his life do you want to convey through your character?
Mr. Gregory accomplished some very different and distinct careers. He is/was a celebrated comedian. He was on the front lines and in-and-out of jail, right alongside Martin Luther King Jr. and Medgar Evers, as one of the leaders of the Civil Rights Movement. His fasting as protest led him to discover astonishingly new approaches to health that has not only allowed him to maintain a high standard of health for himself and others, but he beat, with his own health care regimen, a cancer that threatened his life. And finally, he is a man who is ferociously trying to get his message of truth as information out there in the time he has left.