Ronald Savage, alleged victim of Afrika Bambaataa, speaks to the AmNews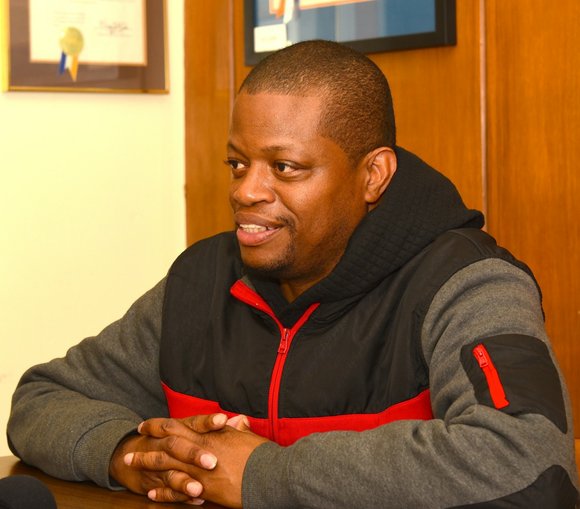 "I just want Afrika Bambaataa to get help, and I want to know why he did what he did to me;" Ronald Savage is a 50-year-old single father of three, who is one of at least four men who have accused hip-hop pioneer Afrika Bambaataa (aka Kevin Donovan) of molesting him as a teen. The founder of the world-renowned Universal Zulu Nation has denied all accusations.
When the online radio DJ Troi "Star" Torain and the Daily News made the child molestation claims public, the UZN brushed off the story as a "conspiracy" designed to defame the organization. That changed as more victims came forward. Savage of the Bronx came to the Amsterdam News this week and detailed how he met Bambaataa when he was just 15 years old and in the 9th grade, at a house in Castle Hill. Discussing in all-too graphic detail, he noted what he claimed was the first sexual encounter with the rap artist.With tears welling up, Savage (aka Bee Stinger) told the Amsterdam News that he was cutting class, and "called Bam because I didn't have anywhere else to go. He paid for the cab. I went to his house. That's when he lived Uptown."
Told to go into the bedroom because the TV was on in there, Savage said that is where the assault happened. He said shock and fear overtook him. "I remember saying this is Bam," he said. "I was confused I really did not know what to do."
Holding nothing back, he mentioned other incidents, declaring, "I don't know how he got me to be around him again. I remember him saying that this wouldn't happen again. He said something that made me feel comfortable. It had to happen more than five times, in his car. He came to my house more than once."
The details as Savage denotes them are startling and kept him living in fear.
"After it happened a few times, I remember telling myself that I wasn't going to do it no more," he said. "I started hating myself. I remember getting distant from [people]. I remember going to parties and going on the carrying crates, and being happy. We were like a family. But, when Bambaataa came I felt nasty. I used to leave. I just didn't like being around him.
"He acted like it was OK, it was the norm, but it wasn't the norm for me. I wasn't like that. So when he says on Fox that I wasn't in his presence—yeah—after he molested me a few times, I made sure of that."
Reportedly, Savage and another accuser are scheduled to participate in an a "healing meeting with Bambaataa and Nation of Islam leader Min. Lois Farrakhan Monday, May 23, 2016.
"I don't want anything from Bam," said Savage, a former member of the New York State Democratic Committee Bronx Judicial Delegate. "I don't want no money from Bam. The only thing I wanted from Bam was an apology, and I wanted to know why he did that to me— originally. But then he goes on the 'Ed Lover & Monie Love Show' and says he did not know me. Then he goes on 'Lisa Evers Fox 5' [and now says] he knows me. [Because] when Lord Jamar and Bam's ex-bodyguard were interviewed, and told the world on Star's show that Bam did know me. Ahmed Henderson is the manager for the Zulu Nation and Bambaataa, and also said on the same show that Bambaataa indeed knows me."