Evening glamor: Soft, sexy and sophisticated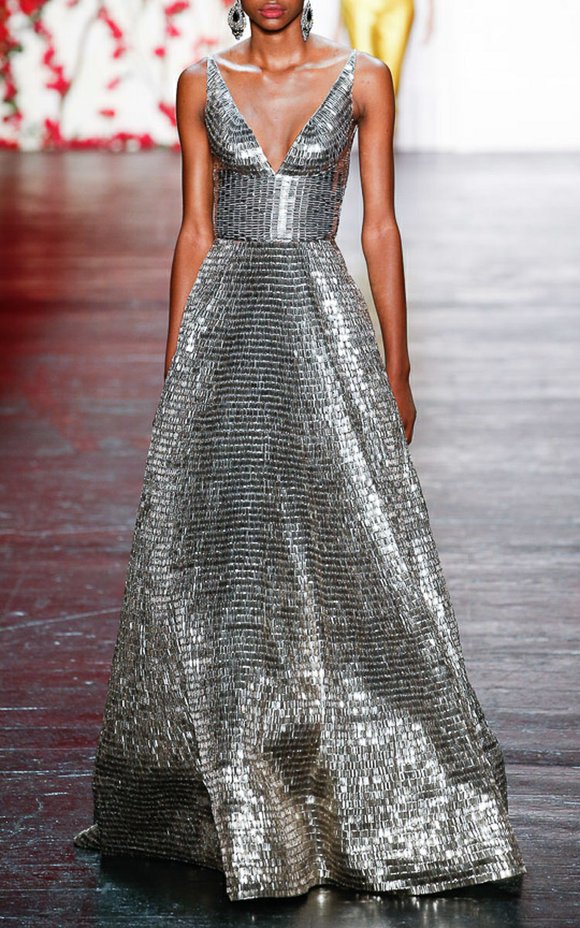 World-class women are devoted to the top designers and the fashions in their collections. Just recently, First Lady Michelle Obama, escorted by her husband, President Barack Obama, appeared in a gown designed by Naeem Khan at the Nordic State Dinner. She looked absolutely stunning in a beautifully flowing, off-the-shoulder ecru gown. Khan's New York Fashion Week presentation exhibited lots of glitter, lace and soft silhouettes. One of the best looks in the collection was a silver ball gown with a tight bodice and long, gathered full skirt.
Khan is committed to adorning elegant women. He also creates red carpet gowns for celebrities such as Jennifer Lopez, Vanessa Hudgens, Lady Gaga, Penelope Cruz, Kate Beckinsale and Queen Noor of Jordan. His designs have graced the silver screen in fashion film classics such as "Sex & the City" and "Dream Girls."
Baja East, a globally inspired luxury brand, is based here in New York. Designers Scott Studenberg and John Targon create pieces that are as elegant as they are effortless. They have pioneered a new kind of fashion and lifestyle concept called "loose luxury." "We believe in the comforts of luxury and the necessity of seeing the world beyond," says the team's website. "We believe in a relaxed luxury that's built on versatility and play."

In their collection, there's a sense of sophistication and cultural convergence that defines the relaxed silhouette. They often seek impeccable lines of aesthetics, personalities, cultures and genders. These comfortable, yet elegant, garments are softly constructed for women on the go. According to Baja East, your real-life wardrobe should be uniquely designed to fit your lifestyle.

The line includes scarves, raincoats, tunics, slim pants, barely there tops, long skirts and caftans. Baja East designs clothes to make people discover, feel and experience the beauty that surrounds them.

Designer Rasit Bagzibagli is the third-generation representative of the Cypriot fabric company Bagzibagli, established in 1957, where the finest silks and French laces from top companies are being sold in Turkey. Born in London, Bagzibagli decided to be a fashion designer at the age of 12 and created his first collection at the age of 21. In this collection, recently presented in Istanbul at Mercedes Benz Fashion Week, the fabrics were exquisite. His cuts are precise, yet somewhat relaxed in off-the-shoulder styles that slither on the body. There are slinky gowns, cocktail dresses, pants and jumpsuits. The shoulder seems to be the focal point of his designs. Important details enhance his looks. He styles lace on the sleeves or top of a garment, places a flare at the bottom of pants and accents skirts with soft panels that move as you walk.
He has dressed several Turkish celebrities as well as international celebrities such as Paris Hilton and Victoria Secret model Doutzen Kroes. Bagzibagli also showed his first Carmen Miranda-inspired collection in Paris Fashion Week. Good shows!