Joe Morton is the brilliant Dick Gregory in 'Turn Me Loose'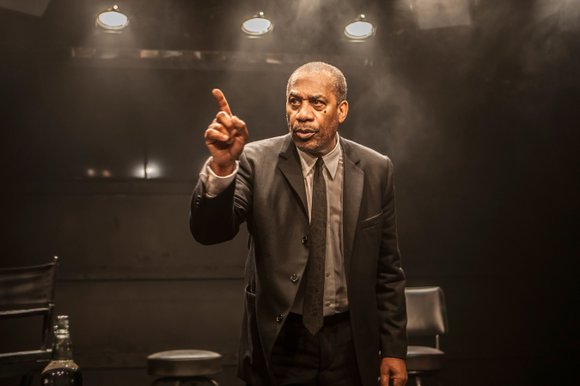 Special to the AmNews
"Turn Me Loose" is a tour-de-force that celebrates Dick Gregory's brilliance. Joe Morton is quick-witted, funny and poignant as the iconic comedian. The production, penned by Gretchen Law, allows the audience to experience Gregory's razor-sharp, common-sense humor. This man is one who saw racism for exactly what it was and is: a horrible problem in this country—whether subtle or in your face.
In "Turn Me Loose" Law shares Gregory's ability to break down the racism in this country and represent it in simple terms that people can acknowledge. This 90-minute production without an intermission is a reality shot in the arm that takes the audience through Gregory's stand-up career and ups and downs in the profession. We witness the transition as Gregory goes from wanting to be successful and make money, to instead wanting to focus on battling racism through marches and sit-ins alongside Dr. King and Medgar Evers.
Gregory is a very wise man and although you are guaranteed to laugh a lot, you will also be given a lot to think about. You will look at yourself as a Black person in this country and see how you are a victim of a racist, capitalist society.
"Turn Me Loose" is not only about the laughter Gregory brought but also about his close relationships with members of the Civil Rights Movement and about his personal losses.
Morton is marvelous! He delivers the role with intensity and an underlying respect for Gregory. It is touching to see an actor take on a role that obviously has great meaning to him. He captures Gregory's energy, humor, spunk, doubts, anger and intelligence.
"Turn Me Loose," draws the audience in and keeps you laughing, thinking and riveted. This production is a fantastic tribute to Gregory at age 83. It has delightful direction by John Gould Rubin and features John Carlin successfully handling multiple roles. The production has scenic design by Chris Barreca, costumes by Susan Hilferty, lighting by Stephen Strawbridge and sound design by Leon Rothenberg. John Legend is one of the show's producers and performs a song, "Marching in the Dark," for the production. The play is performed at the Westside Theatre at 43rd Street and 9th Avenue. For more information, visit www.TurnMeLoosePlay.com or call (212) 239-6200.