Spring/summer 2017 sketches and fall 2016 designs
5/26/2016, 4:38 p.m.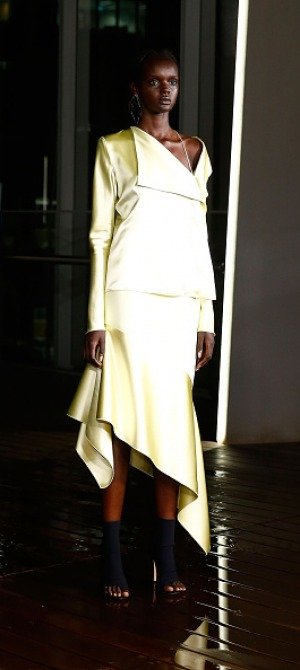 Fashion & Beauty Editor
On top, there are woven, off-the-shoulder blouses that look quite feminine over peasant and poet-styled blouson skirts. Pretty details such as smocking, ruffle layers and cropped looks are best. Bomber jackets, sleeveless styles and ponchos are highlighted. Sweaters are long-sleeved, fitted and cropped with feminine details. Remember the slip dress? Instead of it flowing with a full skirt, it is a one-piece slimming line with a split on the side.
On the bottom, midi and maxi lengths are back in skirt lengths. It's all about volume with baggy pants, culottes and skorts. Skirts are in midi lengths that fall gracefully just above the ankle. Waistlines are high in pleated skirts or skirts with splits. Pants are roomier with front creases, angular pockets and paper bag waists. Bomber jackets with utility pockets and embroidery are everywhere, and they are worn with everything.
Designer Dion Lee created an eclectic collection for his fall 2016 Mercedes Benz show. His clothes were youthful, and mostly in the color white. This year marked the brand's sixth season at New York Fashion Week. His designs were styled with geometric details. "I wanted to probe the tension between functional details and ornamental details," he explained after the show. He created his own jewelry for his collection. There were voluminous coats with pinched waistlines and impeccably tailored garments. Pretty dresses were soft, feminine and frilly. Lengths were usually above the knee. Longer looks were elegant with a variation of collar treatments.
An Australian brand, Dion Lee is a fashion innovator. New York has become a secondary base for the brand, showing regularly on his seasonal schedule.