Kat's Cafe, 'Thomas Chapin, Night Bird Song'
Ron Scott | 5/27/2016, 11:57 a.m.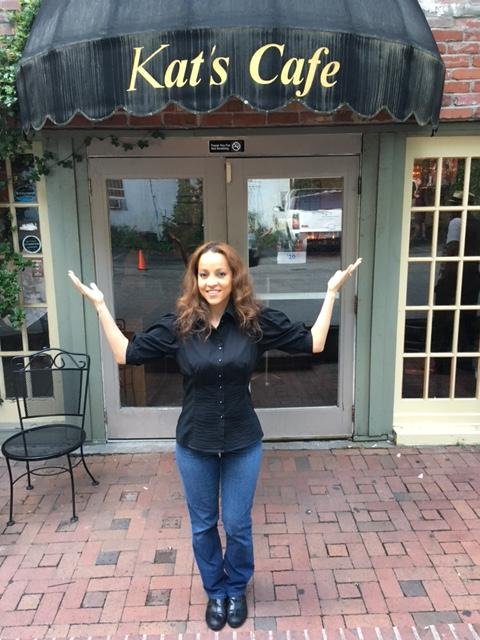 Last week, while visiting Atlanta, I was introduced to a nice little jazz club on that scene called Kat's Cafe. It is owned by Katarina Mia, a transplant from Prince's purple state of Minnesota.
"There is a lot of great talent here in Atlanta, but it is very difficult to get booked in a club if you don't have a great reputation and CD sales," said Mia. The young owner, who is also a singer and percussionist, says she started the club eight years ago as an underground performance space for her musician friends.
She books aspiring and established musicians and singers in the Atlanta area and beyond. Many of these artists are her friends. As some of these local artists travel around the world, they spread the word about Kat's Cafe being a hip platform to stretch your wings or sharpen your chops. "This is a place where musicians like to perform or just hang out and check out the music," said Mia.
Denelta Perkins, a cafe regular, stated, "When Kat isn't very busy, we coax her to get on stage to sing or do her percussion thing." Unfortunately, that did not happen the evening I was there. Mia was the percussionist for the group Klymaxx, known for the soulful throw down.
Let's not categorize Kat's Cafe as a jazz club; it is much more. You know down South they like to jam. Sitting serene is cool at a concert, but in a club, some jamming is definitely going to happen.
During my visit, the set jumped off with some serious R&B funk. The special guest for the evening was Brooke Alford. "Artist of the violin" is her motto, as opposed to saying she is a violin artist.
She is a native of Atlanta but has since moved to Brooklyn, which is home to a host of great musicians. Her playing has traces of Noel Pointer. She crosses genres from jazz to R&B, funk and heartfelt ballads such as Alicia Keys' "It Ain't You," or a rearrangement of "Summertime," taking it up a few notes to an uptempo funk tune with a hard-hitting drum romp.
The violin is a romantic instrument in the classical realm that has advanced its reputation into jazz and funk. Alford's violin strings dance with a funky rhythm, move to a jazz stroll and sing to the soul.
Her current album, "The Viosocalist" (Platinum Crown Music), has a cross-genre flow from the opening uptempo swing ballad of Alicia Keys' "Empire State of Mind," to the dancing "Desert Traveler," which has a Nile beat, a belly dance rhythm that rocks. Beyonce's "Deja Vu" gets a treatment with strings but still reflects a hypnotic flow. On "Reason to Live," Alford features vocalist Rashanna Harmon.
Her original "Twenty-Two" is just a heavy swinging violin at work. It's
interwoven with swift melodies and melodic rhythms. The album boosts seven cuts, with two mixes of "Empire State of Mind."
After Alford, "Baby Teddy Pendergrass" took to the stage. He wasn't really a baby Teddy, standing approximately 6-foot-4 and weighing more than 200 pounds, but he had a touch of Teddy going on. On his original ballad "Show and Tell," he took one of the birthday ladies to the stage and had her sweating with his big Teddy Bear moves.