Multi-zipped styles are in play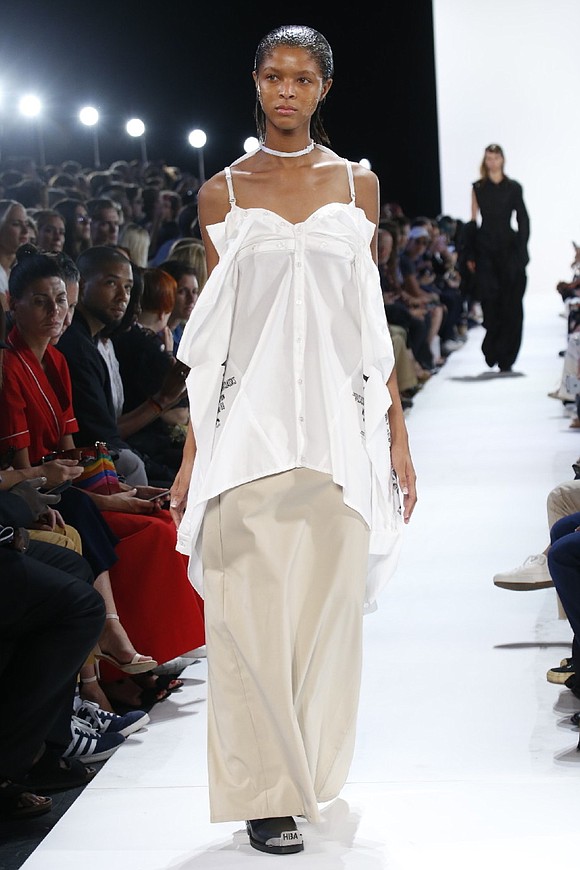 In a league of their own, Hood By Air delivers another striking collection for spring/summer 2017. The company is a convergence of an ensemble of artists under the creative direction of Shayne Oliver, who works in fashion, experimental music, image-making, nightlife and performance. The group's work is grounded in radical interrogations of the body as a site for limitless renegotiations of identity and meaning. There are always new possibilities in shaping a garment, even wearing the garment. They rely on strategies such as appropriation and sampling. Hood by Air's work subverts traditional divisions between original and copy, human and matching
and art and commerce.
Whether you call these looks unisex or gender-free, you can wear them any way you want and feel comfortable. Many like these looks because they are so different. For spring/summer '17, Hood By Air zips their clothes every which way for night or day. Zipping one leg of a pair of pants or zipping a jacket to a shirt, or zipping a shirt to a skirt is significant in the collection. The looks are electric, often loose-fitting and sometimes bold and bare.
Hood By Air's color theme focused on combinations of black and white. Bright colors such as red, yellow, green and blue popped out in wild accessories such as ties, shoes and pants. Bare looks were extreme at times, but overall, everything coordinated was fashionable and tasteful. Their beige leather suit was smartly styled. For men, the robe and trunks were well received.
Coming up in New York Nov. 15, 2016, entrepreneur Jack Klauber, founder of the UN:DO brand, will introduce an exclusive collection at Chelsea Gallery 151. This collection was inspired by Berlin culture and the increasingly trending Brooklyn aesthetic. It's a thoughtfully crafted, gender-neutral collection of ready-to-wear apparel and jewelry. Each garment has a tattered, distressed look that makes each pattern entirely unique to the garment.
UN:DO's goal is to reduce gun violence through the lens of fashion by creating awareness and raising funds to save lives in communities across the U.S., and 20 percent of the profits will be donated to the not-for-profit organization Cure Violence. They are in partnership with Klauber to remedy the issue. "Growing up on the south side suburbs of Chicago, I have experienced firsthand the dire situation of gun violence in my own community, and have always felt a devoted need to help remedy it," stated Klauber. "Our partnership with Cure Violence was a no-brainer for launching our first collection."
At UN:DO, each collection is created to grow awareness toward socially debilitating ills that plague society. They hope to eradicate them from our consciousness completely. UN:DO also provided an artfully crafted curated outlet for those who wish to move beyond hashtags and computer screens to directing their consumerism toward a positive change. UN:DO was created as a way to merge contemporary fashion and social justice. UN:DO is ethically manufactured in New York City using high-quality and sustainably spun fabrics. Every line focuses on an individual
cause to "UN:DO."