The powerful, elegant voice of bass baritone William Warfield
Herb Boyd | 11/3/2016, 11:17 a.m.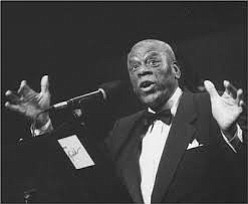 Usually when mention is made of an African-American with a commanding bass baritone voice, Paul Robeson comes to mind. If Robeson was the ultimate performer in this vocal level, then William Warfield was not far behind.
There is no evidence that the two singers ever shared the same stage, although Warfield clearly admired Robeson and viewed him as a hero. Oddly, in his autobiography there is but one mention of Robeson, as if Warfield desired to put some distance between them, asserting his own place in the musical pantheon.
But to make that claim authoritatively he had to move along the same channels as his predecessor, often singing the same songs and performing the same roles. When Warfield was born Jan. 22, 1920, in West Helena, Ark., Robeson had already launched his fabulous career.
Warfield was still a toddler when his family moved to Rochester, N.Y. It was here that he began his study of music, later earning a scholarship to the Eastman School of Music in his hometown. He was still a teenager when he won first prize in the National Music Educators League Competition in St. Louis. The advent of World War II interrupted his studies and he served in the U.S. Army as an intelligence officer. Back on the homefront, by the late 1940s he had his bachelor's degree from Eastman.
His rise to acclaim was not as meteoric as Robeson's. There appeared to be some hesitancy on his part, a slow development of the confidence—and it was Robeson who encouraged him to pursue a career as a performer—that would make his voice in demand whether singing the great classical compositions or Broadway show tunes.
He was the proverbial overnight sensation in 1950, at 30, when his powerful, yet elegant voice began to resonate to greater attention and applause. During his recital debut at Town Hall in New York City, he received standing ovations and was soon contracted by MGM to play Joe in "Showboat." Obviously, there were the comparisons to Robeson, who had put his personal stamp on the role in the film version in 1936, particularly his rendition of "Ol' Man River." Over the years, no concert performance of Warfield's was complete without a version of the song.
Even so, about singing the song, he said, "It's different every time, and that's what keeps it fresh for me. I adapt it to what is on my mind in the course of the day I'm performing. Sometimes there's a sadness to it, sometimes it's really laid back and sometimes it's even angry. The most difficult times I had with it was singing it just four days after the Rev. D. Martin Luther King Jr.'s assassination. It was a Sunday matinee in a small Midwestern town. I had to hold back my emotion somewhat to keep from breaking down altogether."
Two years after his breakthrough, Warfield signed with an extensive traveling performance of "Porgy and Bess," one that took the troupe across the U.S. and parts of Europe. Along with opportunities to showcase his interpretation of Porgy, Warfield also had solo recitals in Vienna and Berlin. Now he was getting the headlines he needed to bolster his career. His marriage to Leontyne Price, his co-star on the tour, only gave him more popularity, although by 1972, they were divorced.