Talking SCHOP! Ribollita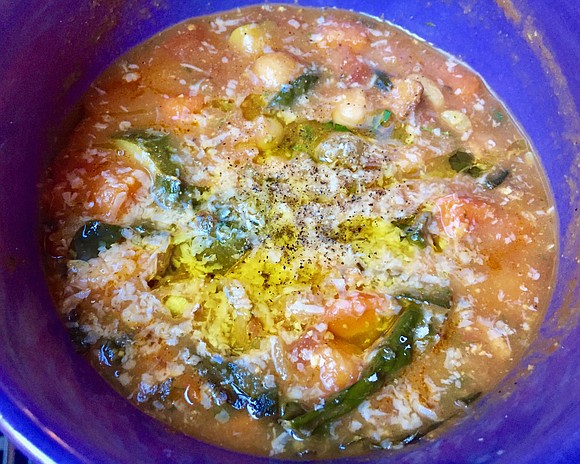 I am still working my autumn cleaning plan of cooking first from my pantry (freezer and refrigerator, too)to purge and make room for new ingredients. What has transpired has been both delicious and satisfying to say the least, but there is much more to work through.
Next to spices, beans are the most abundant in my pantry, dried and canned. Having spied white beans and chickpeas, I used them as the inspiration for my visit to the farmer's market and, with the help of my slow cooker, a return to an unforgettable Italian vacation via a bowl of Tuscan vegetable stew called ribollita. To make this delicious stew, you will need the following ingredients.
Olive oil
1 cup chopped pancetta, or thick-cut bacon (optional)
1
large onion, chopped
2 large carrots, large diced
2
stalks celery, chopped
1 medium fennel bulb, large diced
½ teaspoon kosher or sea salt
½ teaspoon ground black pepper
6
cloves garlic, chopped
1
15 oz. can cannellini beans, undrained
1 15 oz. can chickpeas, undrained
5
cups homemade salt-free chicken stock (or reduced-sodium chicken or vegetable broth)
1
28 oz. can peeled cut tomatoes in puree, undrained
3 bay leaves
2
leaves fresh sage (and/or rosemary)
4
sprigs of fresh thyme
Rind or knob of Parmesan-Reggiano cheese (optional, but necessary)
4
cups Italian kale, rinsed, stemmed and roughly chopped
Ciabatta bread, ¾ inch slices
2 cloves of garlic, peeled
Freshly grated Parmesan cheese
In a large skillet, add 2 tablespoons of olive oil and (if using) pork product over medium heat. Once the pan comes up to temperature, sauté for four to six minutes until just browned. Add onion, carrots, celery, fennel, salt and pepper and sauté six minutes more or until onion is opaque. Stir in garlic and cook for an additional one minute.
Set a clean slow cooker to LOW (eight hours). Add vegetable/pork mixture, beans, stock, tomato product, bay leaf, sage and Parmesan. Mix well, taste and re-season with salt and pepper. Cover and cook.
In the last hour of cooking, ladle out 2 cups of stew into a mixing bowl or blender, making sure not to include any bay leaf or herb stems, and puree. Add puree back into slow cooker with prepared kale, stir, cover and continue to cook until done.
Prepare crostini (toast) by preheating oven to 350 degrees. Arrange bread on a baking sheet and drizzle with olive oil. Bake until golden brown, flipping halfway through. Remove from oven and, when cool enough to handle, rub each slice with a garlic clove.
To serve, lay a crostino in each bowl and cover with hot stew. Finish with fresh grated Parmesan cheese and a drizzle of olive oil.
With wine, a big salad and more bread, this rustic vegetable stew made my pantry proud!
Happy eating and thanks for reading!
Kysha Harris is a food writer, culinary producer, consultant and owner of SCHOP!, a personalized food service offering weekly and in-home entertaining packages. Questions? Comments? Requests? Feedback? Invitations! Email her at kysha@SCHOPnyc.com, follow her on Twitter and Instagram @SCHOPgirl or on Facebook www.facebook.com/SCHOPnyc. For even more recipes, tips and food musings subscribe to her blog at www.talkingSCHOP.wordpress.com. Follow AmNewsFOOD @NYAmNewsFOOD.