Will Clinton's victory bring chaos?
Herb Boyd | 11/3/2016, midnight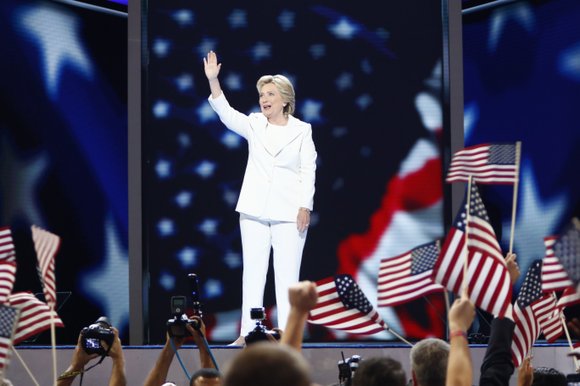 If Hillary Clinton wins the presidential election, there are rumors afloat that it will spur a torrid reaction, some of which may have a portent of mayhem and violence. In our divided nation inflamed by Donald Trump's rhetoric of rebuke and scorn, we should not be surprised by such developments.
Many of Trump's supporters have bought into his negativity, his insults and his declaration that the election is rigged (if he loses). Moreover, his insistence that Clinton needs to be jailed and that she's a "nasty woman" have been enthusiastically received by his throng of worshipers. Some of his supporters, who like Trump believe Clinton is nothing more than President Obama's third term, are ready to do everything they can to disrupt the nation and destroy any possibility of a smooth democratic process.
Ever since Trump entered the race, we've had every indication that it was going to be an unprecedented presidential campaign. When he announced at the close of third debate that he would keep the nation "in suspense" about accepting the outcome of the race if he lost, we witnessed another signal to his followers that things were headed for chaos.
Several Trump supporters have already indicated that they are prepared to march in the nation's capital if Clinton wins, under the pretext and Trump's charge that the election was stolen. In many respects, such demonstrations would be consistent with the rejection many Americans had of Obama and the reality of a Black president.
What's scary about all this is not the mean-spirited words and outrage from the Trump crowd, it's the violence that seems to be percolating just below the heated outcry. Division is nothing new in America. Most citizens are aware of the historical fissures in our country, and if you are not up on your civics, just think for a moment about the Civil War. Far too much of the debris and flotsam of unrest and racism are still evident in our society.
It's hard to separate the hatred from a differing politics nowadays, and in too many instances they are fittingly joined. Are the looming protesters dissatisfied with the fact that a Democrat won, or that a certain Democrat won who is linked to someone they have despised for eight years?
Given the discouraging words that have greeted Obama, the absolute objection he has received from Republicans in congress, and the increase of right wing hate groups in the nation, it's a wonder that he manages to retain any semblance of calm and decorum.
The most a president can do besides executive orders and vetoes is to provide a model of civility and unity, and the degree to which Clinton has promised to continue these traits there is no reason to mount marches against her administration, at least not until her actions call for them.
But there are people ready to dismiss her election, to reject her victory even before it has occurred. They have swallowed Trump's message whole cloth and so it's easy to see why there is a growing concern about problems after the election.
Early on, there were fights and general discord at Trump's rallies, and there is sure to be an even stronger rage if he should lose. And he has offered no hint that he will attempt to stifle such rancor.
In fact, we won't be surprised if he becomes a drum major for the dissent, continuing the imbecility that has appealed to millions of Americans.
Still, there's an election to be won, and it's not quite a done deal, although the numbers are looking better and better each day for Clinton. Her hopes have been given a fresh boost of energy with first lady Michelle Obama joining her on the stump. They were a dauntless duo Thursday in Winston Salem, and they have put the campaign on solid footing, just the kind of combination to further infuriate the opposition.