Hillary Clinton delivers painful concession speech
Stephen Collinson, Dan Merica and Jeff Zeleny, CNN | 11/9/2016, 12:12 p.m.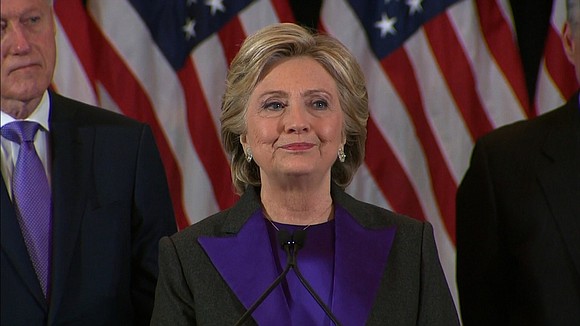 NEW YORK (CNN) -- "I'm sorry."
With those simple words, Hillary Clinton, who thought she would wake up Wednesday as the first woman president-elect but crashed to a stunning election defeat to Donald Trump, likely ended her White House quest and national political career.
The Democratic nominee unequivocally conceded the presidential race, and said that the Constitution requires a peaceful transfer of power.
"Last night, I congratulated Donald Trump and offered to work with him on behalf of our country. I hope that he will be a successful president for all Americans," Clinton said.
"Donald Trump is going to be our president. We owe him an open mind and a chance to lead," said Clinton, who was composed and dignified even as she admitted how painful her defeat was in her first public comments on the result of the election.
"This is not the outcome that we wanted and we worked so hard for, and I am sorry that we did not win this election," Clinton told supporters and campaign workers in New York.
Clinton also addressed the historic achievement for which she twice strived in losing presidential campaigns.
"I know we have still not shattered that highest and hardest glass ceiling, but someday, someone will, and hopefully sooner than we might think right now."
Clinton speech was devoid of bitterness and seemed at times to be an attempt to inspire her supporters about the virtues of public service and of fighting for what they believe.
But she also put Trump on notice that the core American values, which many Democrats believe Trump abhors with his proposals for a ban on Muslim immigration and rhetorical assaults on female journalists during his campaign.
"Our constitutional democracy enshrines the peaceful transfer of power and we don't just respect that, we cherish it. It also enshrines other things: the rule of law, the principle that we are equal in rights and dignity, freedom of worship and expression. We respect and cherish these values too and we must defend them."
Her speech marked a bitter conclusion to a campaign that will be remembered for failing to fully energize Democratic voters and for squandering the party's traditional heartlands in states like Pennsylvania and Wisconsin.
It also marked what could be the final act on the national stage of the Clinton double act, the political partnership between former President Bill Clinton and the former first lady and secretary of state that had seemed poised for a remarkable comeback, 16 years after they left the White House.
Campaign staffers had spoken throughout Clinton's presidential bid of the extreme pressure many of them felt in facing Trump, whom Clinton argued was temperamentally and intellectually unfit for the presidency and to be in charge of the US nuclear arsenal.
Now she is under pressure to call on a nation, split almost exactly down the middle, to unite behind the next president.
It will not be the first time Clinton has tasted the pain of ending a defeated presidential campaign. In 2008, she folded her primary bid against Barack Obama in Washington and bemoaned her failure to break the "highest and hardest glass ceiling" by becoming the first female president. That was to be her fate again in 2016, though the personal recriminations are likely to be even more intense this time given that Trump is seen by many Democrats as antithetical to American values.