Reports of racist graffiti, hate crimes in Trump's America
Holly Yan, Ralph Ellis and Kayla Rodgers, CNN | 11/10/2016, 4:55 p.m.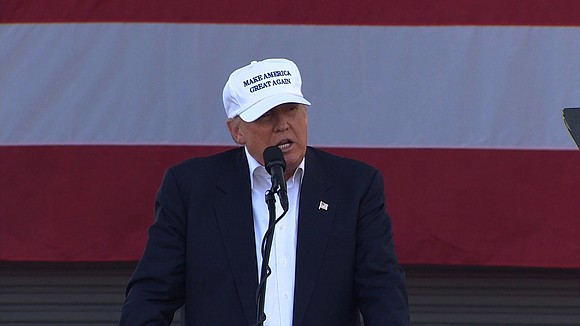 (CNN) -- Fears of heightened bigotry and hate crimes have turned into reality for some Americans after Donald Trump's presidential win.
Racist, pro-Trump graffiti painted inside a high school. A hijab-wearing college student robbed by men talking about Trump and Muslims.
While Trump has been accused of fostering xenophobia and Islamophobia, some of his supporters have used his words as justification to carry out hateful acts.
Here's what some Americans are dealing with across the country.
'Trump!' written on Muslim prayer room door in NYC
At the New York University Tandon School of Engineering, students discovered the name of the President-elect written on the door to a prayer room for Muslims on Wednesday, school officials said.
"Our campus is not immune to the bigotry that grips America," the NYU Muslim Students Association said in a Facebook posting.
School spokesman Kathleen Hamilton said the school has a lot of immigrant students, with about 20% from abroad.
"It's a real melting pot here," she said. "We all believe this very much, that the university is a place of free expression. It has to be safe to be so."
The NYPD is investigating. There were no cameras, and the school isn't sure whether a student is responsible, Hamilton said. She noted that all NYU buildings require a badge for access.
Graffiti in high school: 'Trump,' 'Whites only,' 'White America'
Student Moses Karngbaye said he was terrified to see racist graffiti sprawled inside a bathroom in his Minnesota high school.
"#Go back to Africa" and "Make America great again," someone wrote on a toilet paper dispenser at Maple Grove Senior High School.
"That's the first time I honestly felt like crying at school," Karngbaye told CNN affiliate WCCO.
The bathroom door was also covered with graffiti, including "Whites only," "White America" and "Trump."
Karngbaye sent photos of the graffiti to his mother, who recalled another message: "Now the white people are going to take over."
Denise Karngbaye told WCCO she takes the attack personally.
"I train my kids to respect everybody, regardless of their race, their ethnicity, their background," she said.
San Diego State University president calls incident 'hate crime'
A San Diego State University student walking to her car was confronted by two men who made comments about Trump and Muslims, SDSU police said.
"Comments made to the student indicate she was targeted because of her Muslim faith, including her wearing of a traditional garment and hijab," SDSU President Elliot Hirshman said in a statement.
The men grabbed the student's purse and backpack and removed her keys. After the student returned from calling the police, her car was gone. The suspects are still at large.
Hirshman called the incident a hate crime.
"We condemn this hateful act and urge all members of our community to join us in condemning such hateful acts," he said. "Hate crimes are destructive to the spirit of our campus, and we urge all members of our community to stand together in rejecting hate."