Sweet Lou at 90, Jane Bunnett and Maqueque
Ron Scott | 11/10/2016, 11:24 a.m.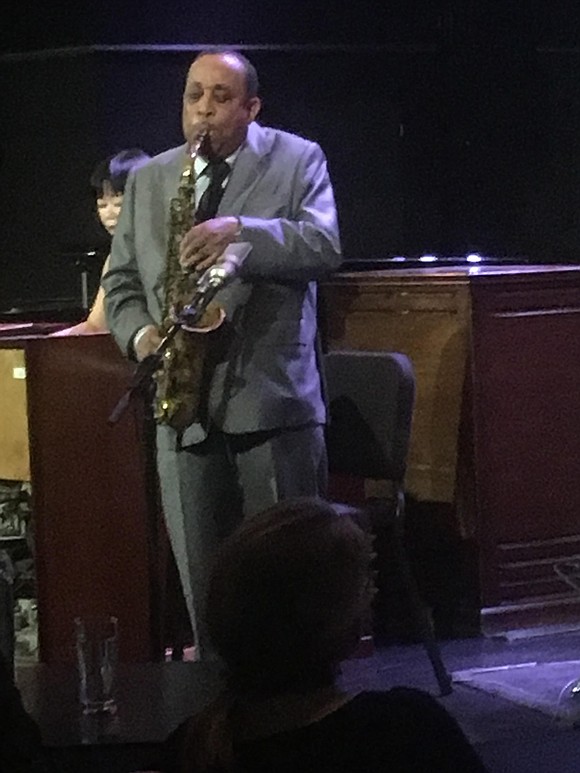 No one swings harder than Lou Donaldson on the alto saxophone, as he demonstrated last week celebrating his 90th birthday at Dizzy's Club Coca Cola. As usual, his smooth performance required multiple standing ovations, including one as he took the stage.
Donaldson was accompanied by his longtime intuitive forces: organist Akiko Tsuruga, guitarist Eric Johnson and drummer Fukushi Tainaka.
The opening tune "Blues Walk," a blues funk base, exploded high in the stratosphere as the organist laid down a rolling medley that intersected with Johnson taking his guitar rhythms high, and Tainaka's sticks came as blazing thunder.
After the tune Donaldson stated, "I hope it sounded all right. I couldn't make a sound check because I had to go play my number."
Donaldson, dressed in his signature dark suit and tie, has a knack for telling jokes, offering inside tidbits on such cats as Thelonious Monk and Charlie Parker and introducing his songs with a humorous flair.
"This next song is real fast and freaky but not that freaky," said Donaldson with a laugh. "It is not recommended for rappers. It swings too hard. It is called 'Fine and Dandy.'" This tune was followed by his gravelly voice on his repertoire staple, "Whiskey Drinking Woman," with his own improvised verses. He noted, "This is suffering music from down home in North Carolina. If you never suffered, you can't understand this music."
Donaldson's nickname "Sweet Papa Lou" refers to the sweet sound his horn makes, particularly on ballads, as was witnessed on "What a Wonderful World." His repertoire ran from straight-ahead to bebop to his favorite blues enhanced with riveting funky soul rhythms.
With his sweet tone, Donaldson quickly became a first call for musicians such as Milt Jackson and Thelonious Monk. In the early 1950s, he was a member of Art Blakey's Jazz Messengers while still in his 20s. His reputation soared as a bandleader and composer when he signed with Blue Note Records in 1952 and recorded "New Faces New Sounds," which featured Clifford Brown, Elmo Hope, Percy Heath and "Philly" Joe Jones.
He recorded with Blue Note until the 1980s (recording more than 50 albums) turning out such classic albums as "Alligator Boogaloo" (1968), the timeless hit that is a mainstay in his repertoire; "Good Gracious!" (1963); which has one of the most memorable covers ever photographed for the record label; "Lou Takes Off" (1957), with Curtis Fuller and Donald Byrd; and the live recordings of "A Night at Birdland" (Vols. 1-3, 1954), with Art Blakey Quintet.
Donaldson's love affair with organs has continued since recording more than 10 Blue Note albums with Jimmy Smith, his recordings and tours with Jack McDuff and his on-going relationship with Dr. Lonnie Smith.
"I met Lou in Harlem at Showman's in 2007," said his organist Tsuruga. "His band members at that time, drummer Tainaka and Dr. Lonnie Smith, were my mentors. I have been playing with Lou for the last seven years, it has been so great and Lou is the best."