Sweet Lou at 90, Jane Bunnett and Maqueque
Ron Scott | 11/10/2016, 11:24 a.m.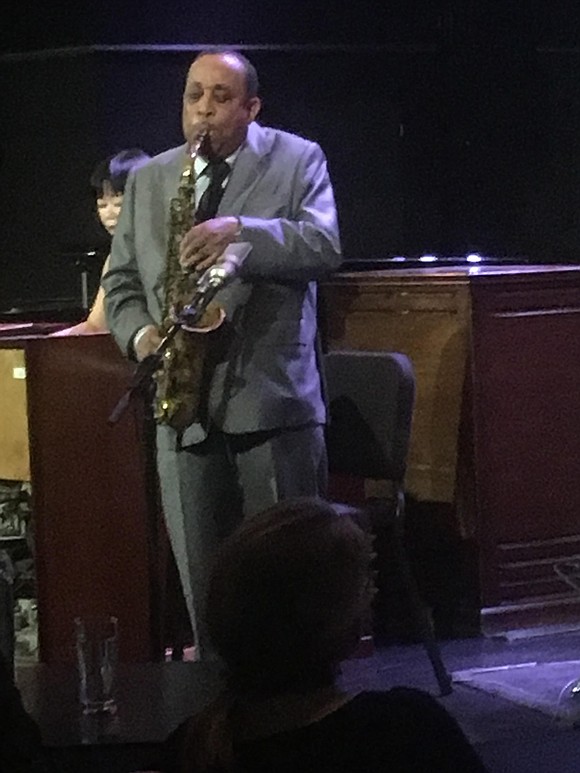 Tainaka has been playing for Donaldson for 30 years.
"Lou was 59 when we met in Harlem at Sutton's on 145th Street," said Tainaka. "Dr. Lonnie Smith was his organist then. The gigs were three nights per week and guys like George Benson and Jimmy Ponder often jammed with us. This is a very special night."
The guitarist Eric Johnson met Donaldson while he was still in high school in Pittsburg. "I had the opportunity to travel with him and Jack McDuff that was my beginning as a jazz musician," said Johnson.
The NEA Jazz Master's birthday brought his family from all points, including his daughter Dr. Carol Webster from Fort Lauderdale, Fla., his grandson from Chicago and his cousins from Philadelphia.
His friend, vocalist George V. Johnson from Washington, D.C., joined Donaldson onstage for an engrossing version of Monk's "Now Is the Time."
The evening's host was his good friend and jazz "professor" Phil Schapp.
Donaldson is one of the great alto saxophonists in jazz. "No fusion, no confusion just great music from Sweet
Pappa Lou," said Schapp.
Cuban musicians have added to the jazz vocabulary since 1947, when Dizzy Gillespie became involved with the conga player Chano Pozo and the trumpeter/bandleader Mario Bauza, who influenced the movement of Afro-Cuban music.
Today with more Cuban musicians coming to New York, they are extending the colorful tapestry of their on-going contributions. Most recently Jane Bunnett and Maqueque shared their tropical journey with a sold-out audience at Birdland jazz club on a Tuesday night, which is unusual. The club's manager noted, "When Maqueque shows up, the room is packed."
The ensemble is an all-female ensemble, which makes it unique. They are all Cuban with the exception of bandleader Bunnett, a Canadian soprano saxophonist and flutist known for her Afro-Cuban musical connection of playing in Cuba and bringing Cuban musicians together in various bands.
This ensemble (octet) features a group of very talented young ladies: the pianist and vocalist Danae Olano, the bassist and vocalist Cecila Jimenez, percussionist and vocalist Magdelys Savigne, drummer Yissy Garcia (we met in Cuba when she was a teenager playing late night jam sessions, and last year she performed at the Havana Jazz Festival), violinist and vocalist Elizabeth Rodriguez and special guest vocalists Melvis Santa and Dayme Arocena.
Their repertoire romped through classical verses mixed with jazz melodies. Other tunes were rooted Cuban and African rhythms and swinging mambo, salsa melodies that made it very difficult for the audience to restrain themselves from dancing in the aisles.
Their English version of Donny Hathaway's "Song for You" was stunning. The background vocals were sung in Spanish with a crying soprano sax. The song, which is on their latest CD "Oddara" (Linus Entertainment), is required for listeners interested in a musical journey that extends the sound of traditional Cuba and its African roots.