Visiting the markets of Thailand
MEGAN PINCKNEY | 11/10/2016, 11:39 a.m.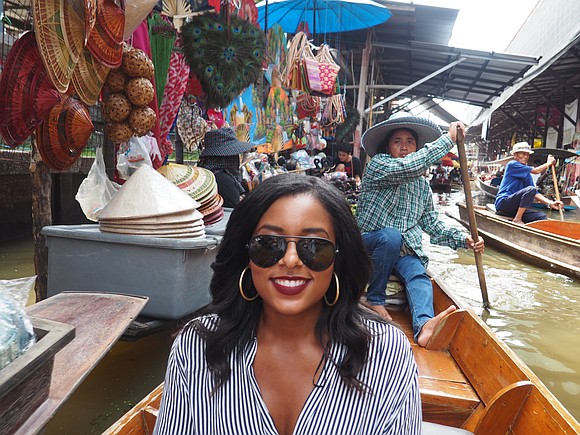 Thailand is easily the most interesting and most beautiful place I have ever visited. Behind every corner and on every street, no matter where you are, there is something unique to be seen. The country itself has more than 40,000 Buddhist temples, which means you're bound to run into multiple ornate structures. The streets themselves are filled with tuk-tuks painted in a rainbow of colors. And nearly year-round the vegetation is exotically vibrant thanks to the tropical climate.
With so much to see and be amazed by, it is easy to become overwhelmed when deciding what you'll do while on a visit to Thailand. The truth is, you would need weeks to see everything the country and the culture has to offer. Unfortunately, most of us have only a few days to explore. Determining what you should make time for and what you should "save for next time" can be difficult. To help, here are two markets that I think should be on every traveler's itinerary:
The market on the active train track
In Samut Songkhram, a small town approximately an hour south of Bangkok, there is a street market set up along either side of an active railway. Three times a day, a train makes a stop into Maeklong Station, the structure anchoring the Maeklong Railway Market, forcing several dozen merchants to halt business and make way.
This market sells everything, from fresh produce and meats to apparel for the entire family, and even animals such as rabbits and ducklings. The train track is used as a sidewalk to direct you from shop to shop. Walking down the tracks reveals how unsanitary some neighbors can be—shoes should never be sold next to raw fish!
Merchants along the railway are notified between two and five minutes before the train's arrival, when a man in uniform begins waving a green flag and blowing a whistle. Makeshift awnings of plastic and scraps of metal are pulled back to make way for the low-speed passenger train while merchants and visitors stand daringly close. What's most fascinating about this market is that the merchants have found a way to utilize their entire space with merchandise in a way that doesn't even have to be adjusted before or after the train moves through.
Immediately after the train's passing, awnings are replaced rather nonchalantly, and the track is filled once again with tourists and local consumers. This activity explains why the market is known locally as the Talat Rom Hoop, which translates into "Market Umbrella Close."
There are two ways to see the market. The first is to actually take the train! The Wongwian Yai Station in Bangkok would take you right through the market on the Maeklong Railway Line. However, the most efficient way to see the market is to have a private car and tour guide take you. That way after the train passes through, you can leave as soon as you are ready and won't have to wait hours for the next train or commute back on a ferry.