Avenue Music Group spreads the love with their Thanksgiving Day Giveback
MARIAH MONET | 11/17/2016, 11:25 a.m.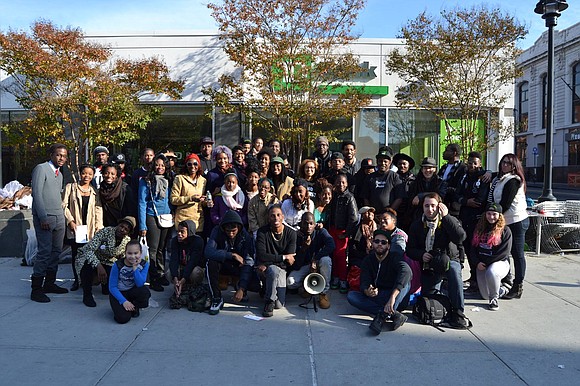 The Avenue Music Group's Spread the Love Thanksgiving Day Giveback is helping the community by providing food, clothing and live performances to those less fortunate, and those folks in need of a little extra help and community love.
The event will take place Thanksgiving Day, Nov. 24 from 10 a.m. to 2 p.m. at 957 Marcy Ave. in Bed-Stuy, Brooklyn.
AMG is collaborating with 200+ community organizations, businesses and artists. The entertainment will range from performances from hip-hop artists, poetry and spoken word as well as performances by dancers. In addition, barber shops and salons will be handing out free haircuts during the events.
This event is very special to Joshua Walker, creator and CEO of Avenue Music Group. He founded the group in 2013. AMG is a nonprofit organization dedicated to bettering the lives of artists and youth in the community.
"The purpose of the event is to provide food, clothes and entertainment to the community, for those who don't have as much as others," said Walker.
Members of the community can donate any goods the day of the event or at any of the pickup spots AMG plans on announcing.
"Most of us have families to go home to, meals and clothes—some people don't have any of that. We wanted to do something to provide for them," Walker continued. "I am very big on people coming together and doing amazing things. What we wanted to do was collaborate with local artists, businesses, organizations and bridge the gap between businesses and artists and regular community individuals."
AMG is also using this event to launch their $50,000 youth fundraiser to continue to make a positive impact on teens within our community. AMG offers workshops to schools. The fundraiser will aid in their continued effort to inspire students around New York City.
Walker told the Amsterdam News last month, "A lot of schools don't have a large budget, so they can't afford the workshops that we do or they have to cancel another arts program to be able to bring us in. So what we want to do is self-fund it, to be able to offer these programs free of charge."
"There are times when kids will break down and cry at our workshops when they realize there are people out there that really care about them and want them to succeed," said Walker. "I've had teens get internships and jobs when their lives were headed to drugs and gangs. They thought the only thing they could do was sell drugs to get out of the hood until we opened their eyes to better opportunities."
For more information, email info@amger.org or call 347-760-3739. Also visit www.amger.org.
To learn more about AMG's mission and upcoming events, visit their Facebook page at AMG E.R. or Joshua Walker and donate to their fundraiser at gofund.me/AMG50K.
On board sponsors include the following:
Carvel Ice Cream 
Panera Bread 
Applebees 
Food Town 
Councilmember Robert E. Cornegy 
Assemblywoman Tremaine Wright 
My Base 
ACA Branding 
El Jeffe 
Angela's