Candido retires, James Moody Fest, Chocolate Street
Ron Scott | 11/17/2016, 4:31 p.m.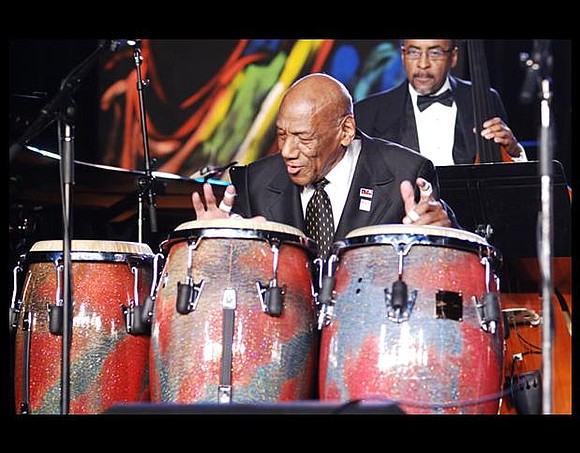 The influential Cuban musicians who introduced Latin sounds and Afro-Cuban rhythms to New York City began in the late 1930s, with the trumpeter and bandleader Mario Bauza, Machito's foster sister and vocalist Graciela in the 1940s and Chano Pozo.
In the late 1940s, another young Cuban, Cándido de Guerra Camero, simply known as Candido, arrived in Manhattan and added his congas to the mix. The young man, who has become the most recorded conga drummer in jazz history, had his first set of bongos made by his father. He said, "They were just two cans my father cut open, covered and taped them together."
The NEA Jazz Master, who has influenced every aspect of popular music from rock to pop, R&B, disco and Afro-Cuban dance music for more than seven decades, has decided to retire.
On Nov. 18, luminaries from his Latin jazz family will converge in Harlem at Aaron Davis Hall to celebrate his retirement, which will mark his final performance, at 7:30 p.m.
"Candido: The last Legendary Music Journey" will feature Bobby Sanabria Multiverse Big Band, the Cuban guitarist David Oquendo, the renowned Cuban vocalist who has made quite a reputation here in the states Xiomara Laugart and the drummer Amaury Acosta & (U)nity, a group on the exploratory edge (co-founded with Axel Tosca).
Other performing artists will include the guitarist Benjamin Lapidus with a special salute from the jazz community by AUDELCO award-winning actor and vocalist Rome Neal with pianist/composer Richard Clements.
Known as the "Father of modern drumming," Candido was the first to play multiple congas simultaneously. He said, "I got the idea in Cuba watching classical bands playing those big timpani drums. I thought it would be a good idea if I did that with my congas, plus it gives me more room to spread sounds." This technique led to his polyrhythmic style of playing, which is now basic for most conga players.
Candido learned to play the tres (Cuban mandolin) and acoustic bass. While in Cuba he performed with the musician elite. He was a member of the Havana Tropicana nightclub house band for eight years.
In 1948 he made his first United States recording with Machito and His Afro-Cubans, followed with Dizzy Gillespie and a stint (1953-1954) with the Billy Taylor Trio. One of the most beautiful jazz albums recorded with the pianist was "The Billy Taylor Trio with Candido" (Prestige 1954).
He went on to record and play with Babatunde Olatunji, Grant Green, Tito Puente, Ray Charles, Frank Sinatra, La Lupe, John Coltrane, Gloria Estefan and Sonny Rollins and on Randy Weston's now legendary recording of "Uhuru Afrika" (Roulette 1960).
He recorded 20 albums as a leader, including "The Conga Kings" (Chesky, 2000), featuring Giovanni Hidalgo, Candido and Patato Valdes, and "Candido & Graciela: Inolvidable" (Chesky, 2004). He appears in Ivan Acosta's documentary about his life, "Cándido: Hands of Fire."
"Cándido is truly a living legend," said CCCA Managing Director Gregory Shanck. "Retirement is a big deal, especially if you are a pioneer of a musical revolution. Cándido's selection of City College Center for the Arts and Latin Jazz USA as the organizers of this celebration is a tremendous honor for us."