Election aftermath—Community responds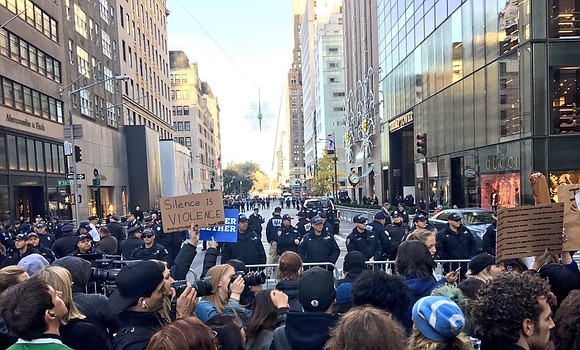 "We're not afraid of Donald Trump!" boomed Omowale Clay, community organizer with the December 12th Movement. "Donald Trump is afraid of Black Power! Now is the time more than ever for Black Solidarity action. Trump's election must be a wake-up call for Black folks nationally."
As the post "shocking" presidential election result weeping, wailing and throwing up of hands subsides among the mainstream, along with the outraged protestors taking city centers nationwide are the this-changes-nothing shrugs of the independent-thinking grassroots. Thoughts now are fully entrenched in the "what's next" portion of the global program. Protest if you want to, but organize and be prepared are also running parallel.
"To contemplate Donald Trump as president of the United States is to come to grips with the fact that racist, sexist, xenophobic, Hitler-esque ideologies will now—in an unfiltered way—guide how this country is governed," said activist April R. Silver of AKILA WORKSONGS. "No one individual, organization, movement or corporation can defeat this order but through organized, long-visioned, collaborative work, we can resist and overcome Trumpism. I believe the two most important things to do is first, study history critically, and also believe that we can resist and overcome this madness. We won't win this war if we don't believe we can."
While all eyes are on Trump's convoluted search to find a workable, confirmable transition team and cabinet, the name Rudolph Giuliani keeps popping up. Giuliani is reportedly being considered for Secretary of State or U.S. Attorney General. Tuesday, former presidential also-ran, famed neurologist Dr. Ben Carson, took himself out of the running for any position, confessing somewhat curiously that he did not have the credentials to be considered, as he had no experience holding any elected position.
"Frick and Frack," is how December 12th Movement Chairwoman Viola Plummer described now defeated candidate Hillary Clinton and President-Elect Trump at the community speak out held at the New Canaan Baptist Church, in Bed-Stuy, Brooklyn Tuesday night. Plummer quoted W.E.B Dubois' declaration: "Two parties, one evil. Either Frick or Frack, but one of them was going to be president."
Committee to Eliminate Media Offensive to Afrikan People Co-Chair Dr. James McIntosh used a slide show to demonstrate how manipulation and smoke and mirrors guaranteed a win for Trump. The retired psychiatrist with 35 years of experience, detailed Trump's father's documented Ku Klux Klan history and Trump's inter-connections with international business and the gambling, boxing and construction industries. McIntosh went in on Trump's and Bill Clinton's connection to jailed pedophile Jeffrey Epstein.
McIntosh reminded the audience that Trump himself had been accused of raping a 13-year-old girl, and that a trial date had been set. He added that Trump was well versed with white supremacists and McCarthyism. "He fits the Hitler-type," McIntosh said, also noting Trump's reported mob associations, international connects and how the media played down his wife Melania's father membership in the Slovenia Communist Party. All this cover-up, McIntosh determined, was to maneuver this particular couple into the White House.
McIntosh concluded that with the questionable Electoral College procedure and a well-entrenched white supremacist agenda in play, Trump's win was assured.