KRVC's Broadway Bash
11/17/2016, 10:54 a.m.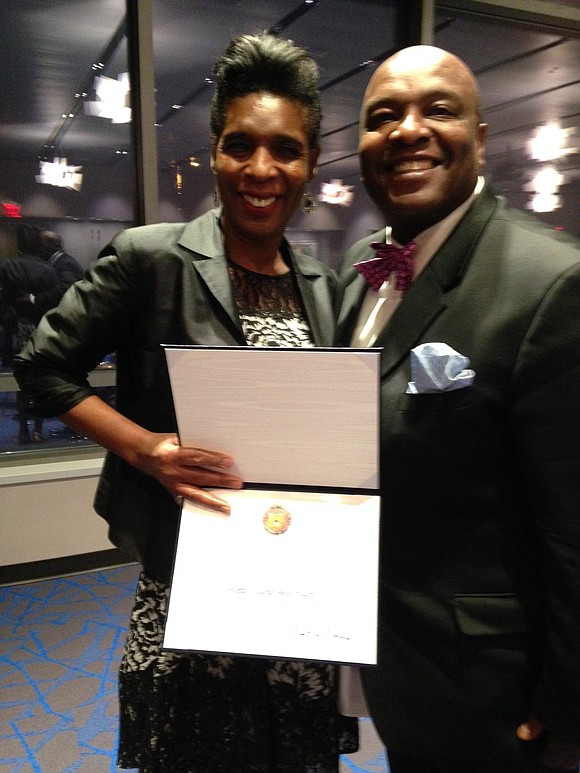 Kingsbridge Riverdale Van Cortlandt Development Corp. held their first of what will become their annual Broadway Bash Gala last evening at Manhattan College. It was a complete success! Several of the community's leading business owners were honored, including Betty Campbell-Adams, owner and CEO of Lloyd's Carrot Cake; Andrew R. Williams from Williams Funeral, Inc.; and Orlando Kross, a successful florist and owner of Flowers by Zenda. Folks were dressed up and were dancing the night away.
Sen. Jeffrey Klein presented Campbell-Adams with her award. The Lloyd's Carrot Cake owner was honored for her standing as a pillar in the community. The wholesale and retail outlet has received tremendous accolades from the simple fact that their cakes are delicious. Services and reviews from major media have attracted folks from all over. The cake shop, which recently opened a separate juice bar and retail shop, is on the tip of everyone's tongues, especially over the holidays. There are long lines of folks just waiting for Lloyd's Carrot Cake at the shop on Broadway across from Van Cortlandt Park. They also have a Manhattan location at 1553 Lexington Ave. (212-831-9156).
A not-for-profit organization, KRVC was founded in 1981. Their goal is to encourage and support local initiatives that will build and enrich the community through social, cultural, environmental, health, housing, educational and business enterprises. The target areas are business and residential communities comprising Kingsbridge, Kingsbridge Heights, Marble Hill, Riverdale, Spuyten Duyvil, Fieldston, Woodlawn and Van Cortlandt Villages neighborhoods in the Bronx. This formal affair celebrated "Broadway in the Bronx" and launched the organization's newest projects, a Virtual Gardens proposal and New Bronx Initiative. After cocktails, a delicious dinner was served. Jazz music by The Red Hot Swing and an auction provided entertainment throughout the fun evening. Bronx politicians, including Congressman Elliot Engel, State Sen. Jeff Klein, State Senator-Elect Marisol Alcantara, Jeffrey Dinowitz and Councilmember Andrew Cohen, were in attendance.