'Loving' delivers knockout performances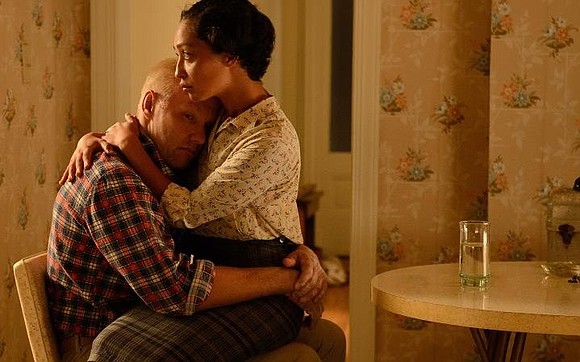 "Loving," directed and written by Jeff Nichols, has managed to deliver a film that finds the center of the human story, laying out the gross injustice without provoking frustration and utter rage.
The film is based on events at a not-so-recent point in our history (1958) when it was illegal in some states for African-Americans and whites to marry.
In Virginia, a reserved working man, Richard Loving (Joel Edgerton), white, fell in love with and married Mildred (Ruth Negga), Black.
The courageous couple drove to Washington, D.C., to make their marriage official, and Richard bought an acre of land near Mildred's family home on which he planned to build a house. Thus a couple stepped into the 1958 American dream. With a baby on the way, their first child, they were building a peaceful life.
Suddenly, in the middle of the night, the ugliest side of America reared its venomous head and their lives were changed forever.
Police officers broke into their home, arresting both Richard and Mildred, informing them that their marriage license was not valid in Virginia and that they had violated anti-miscegenation laws, which made mixed-race marriages a violation punishable by jail time.
Under pressure to stay out of jail and alive, the Lovings were released under one condition: They had to leave the state of Virginia and not return for 25 years.
The separation from their families and their beloved land nearly broke the stoic Ruth. As the face of America began to change with the rise of the Civil Rights Movement shaking the foundations of our country, the anti-miscegenation laws became a target for both sides of the conflict.
In this new America where justice was being demanded, the Lovings' case became a focal point of removing racist laws.
Under Nichols' soulful filmmaking, he showed people making things—using their hands to shape—cleaning kitchens, laying bricks for new houses, working on cars, etc. Every frame seems to whisper, "Remember when America built things to last?" Before things were stamped "Made in China." You can almost smell the perfume of flowers being serenaded by crickets and everything good, that God made, slowly baking under the palpable heat of a Virginia sun.
The actors that give voice to Richard and Mildred Loving are a staggering revelation. Edgerton is phenomenal, giving us a glimpse into a husband/father whose constant fear for his family's life is played out in long stretches of silence. The impact of being in the cross-hairs of racism is etched on his face.
But "Loving" is Negga's movie, and she leads us into the complicated life of Mildred, with just a simple glance. Her eyes are expressive and hypnotizing and her voice—measured and melodic—delivers a knockout punch.
Here the director allows Negga to unravel and to reveal. That speaks to Nichols' gifts as a filmmaker: He understands how to use the tools at his disposal, not weighing us down with expository dialogue.
The impact of the loss of the family connection is well demonstrated by the hurt expressed in Mildred's sister Garnet, played by Terri Abney. Abney is a chameleon, fluid and versatile, her performance reminding me of a young Meryl Streep, with a fresh voice that embodies being a bi-racial woman growing up in the U.S. in the early '90s. To repeat an often used phrase, "It's complicated."
Fundamentally Nichols' vision is evidence in the amount of trust he has, and rightly so, in his two leads and what they give back to him, an exchange of trust, that just might lead the team to an Oscar win in 2017.
The civil rights case, Loving v. Virginia, went all the way to the Supreme Court, which in 1967 reaffirmed the very foundation of the right to marry. Richard and Mildred returned home and their love story has become an inspiration to couples ever since.
"Loving" is now open. The film is a Focus Features presentation of a Raindog Films/Big Beach/Augusta Films and Tri-State Pictures, starring Joel Edgerton, Ruth Negga and Terri Abney, and written and directed by Jeff Nichols.