Black separation? Mobilizing for a plebiscite
Amadi Ajamu | 11/24/2016, midnight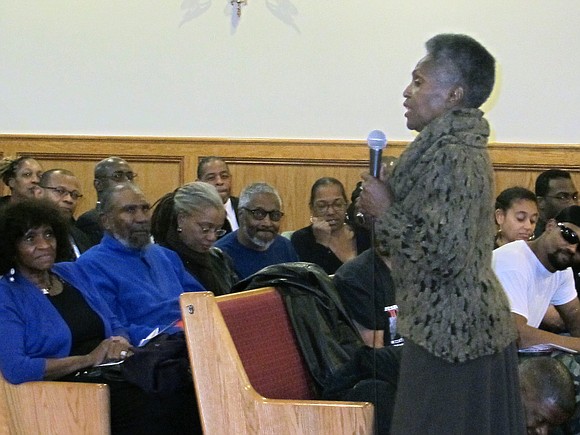 "He has strong connections with McCarthyism. His attorney Roy Cohn was chief counselor for Senator Joseph McCarthy and a member of U.S. Department of Justice team that tried Julius and Ethel Rosenberg for espionage. His clients included prominent mafia leaders, former presidents Nixon and Reagan, and Jeffrey Epstein and wealthy known predatory sex offender. Cohn was a mentor to Donald Trump."
The presentation documented many more examples of Trumps unsavory activities.
McIntosh explained, "The answer to all these things were laid out by Marcus Garvey many years ago. He said we have to unite. We have to have self-knowledge and operate as a nation. We have to have self-industry, self-education and self-rule. Most importantly, we have to have self-defense, because if you don't, all of those other things are taken away from you.
"Marcus Garvey also laid out working models to show you what could be done. He gave us a newspaper to document our history and current events; grocery stores to feed ourselves. He had the Black Star Line so we can engage internationally. He called us a universal people.
"I would also like to say is that Donald Trump is not the president yet. He is the president-elect. There are still a couple of month left. We have unfinished business with Obama. The U.S. government's plan is for all of our political prisoners to die incarcerated. With Donald Trump we can forget it. We must push Obama to release our political prisoners immediately."
McIntosh concluded, "How did I know Trump would win? When Trump look out into the audience and said to Black people 'What do you have to lose? You have the most crime, no housing, no education and no jobs.' I knew he would win. Plus, the mind numbing reality shows and music dumbing down a lot of poor Blacks and whites, and manipulation of their dissatisfaction with the economy among other factors, sealed it."
Viola Plummer then said, "Now what do we do? We have heard Dr. McIntosh; our people have spoken. What Now? It is clear that we are not Americans. The Choice campaign will continue on the question of Black separation and what does that really mean to us. And address the issue of a plebiscite [referendum] among our people to do our work."
The next State of Emergency Community Speak-Out focusing on "Not an Inch to Fascism! And Mobilizing for a Plebiscite" will be held Tuesday, Nov. 29, 2016, at the New Cannan Baptist Church, 228 Putnam Ave. (between Nostrand and Bedford avenues), Brooklyn N.Y. For more information, contact the December 12th Movement at 718-398-1766.