Thanksgiving Day celebrated in the city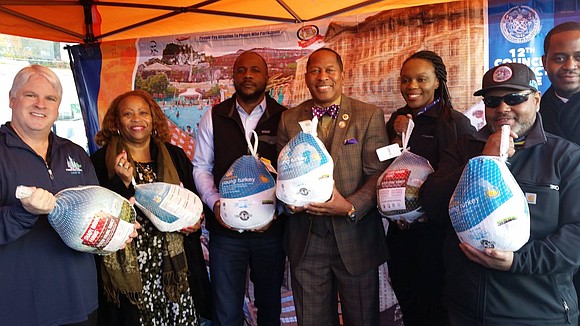 The spirit of Thanksgiving was felt across the city as people came together to celebrate the holiday with food and camaraderie. There was a sense of giving back as many people across the city volunteered there time to help others.
Macy's Thanksgiving Day Parade
Thousands of people lined up from the Upper West Side to Midtown to watch the 88th Macy's Thanksgiving Day Parade. Floats, marching bands, celebrities and Santa Clause made their way through Manhattan. Giant balloons this year included Spongebob, Hello Kitty and Charlie Brown. Tony Bennett, hip hop group De La Soul, Fitz & the Tantrums, Kelsea Ballerini, Sarah McLachlan and Beyoncé protegees Chloe x Halle performed
Al Sharpton's National Action Network hosts Thanksgiving dinner
The National Action Network (NAN) hosted a free Thanksgiving dinner for the community at the House of Justice in Harlem. On Tuesday, Sharpton distributed turkeys to local residents.
Bronx residents receive warm comfort at winter coat Distribution
Nearly 100 Bronx residents had something extra to be thankful for this Thanksgiving. New York City Council Member Andy King distributed warm coats today at his Bronx district office on East Gun Hill Road. The new or gently worn coats were donated by residents of the 12th Council District. King also distributed turkeys last week just in time for the Thanksgiving holiday.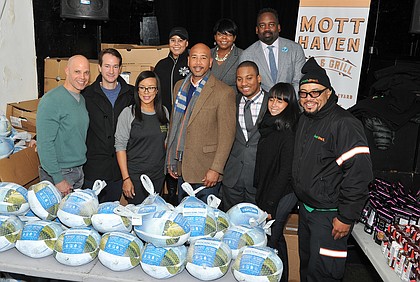 1,500 Needy New Yorkers treated to fancy, sit-down dinner on Thanksgiving
At First Corinthian Baptist Church's Thanksgiving Day meal for 1,500 New Yorkers, there were no soup kitchen lines – no assembly line, no spoonfuls of food slopped onto plates. The church was transformed into a restaurant – tablecloths, menus, waiters and hosts in uniform, and table service complete with turkey and trimmings. During the meal, a street team also combed the neighborhood for people in need of a hot meal – including the barbers, bodega employees, and others stuck working on Thanksgiving. Other volunteers dropped off meals for the elderly and homebound.
FreshDirect donates 500 turkeys to South Bronx families
On Monday, FreshDirect partnered with local South Bronx merchants to distribute 500 turkeys to community members in the neighborhood at the Mott Haven Bar and Grill for their Thanksgiving meals. The event featured key leaders of local government including Borough President Ruben Diaz Jr.
Council Member Ben Kallos and Common Pantry deliver Thanksgiving turkeys to NYCHA residents
Council Member Ben Kallos and Common Pantry are distributing 100 turkey packages, purchased with funding assistance from Council Member Kallos' office. They will distribute the packages to the residents of Stanley Isaacs Houses, Lexington Houses, and Robins Plaza.
Catholic Charities Brooklyn and Queens donates 450 Thanksgiving turkeys to those in need
On Monday, Catholic Charities Brooklyn and Queens (CCBQ) metat Bishop Mugavaro Senior Housing Site to give 450 turkeys to families in need, in time for the Thanksgiving holiday. Donors Alphonese and Maria Catanese donated the turkeys, while the NYPD Emerald Society and NYPD Holy name society was presented to help unload and hand out the turkeys.
New York City Mission Society serves over 200 at 13th Annual Thanksgiving Harvest Community Dinner
The New York City Mission Society provided more than 200 meals at its 13th Annual Thanksgiving Harvest Community Dinner at Minisink Townhouse on November 17. New York City Mission Society alumni and staff will be joined by Board Members Laura Flavin, LTC Francis W. Kairson, Jr. (Ret.), and Jean Shafiroff, Jay Moorhead, community members, and volunteers. Last year, the event drew several hundred program participants, families, and community members.
Harlem Center for Nursing and Rehabilitation donates turkeys to church
On Wednesday, November 23 elderly residents at the Harlem Center for Nursing and Rehabilitation, joined by staff members, loaded up 20 turkeys onto carts and wheeled them across West 138th Street to St. Mark the Evangelist Catholic Church. Pastor Bill Cristy was on hand to accept the donation of turkeys, which is helping the Church feed more than 250 needy families and homeless New Yorkers on Thanksgiving Day.