'Tis the season to see Disney
MIKA BASSON | 11/24/2016, midnight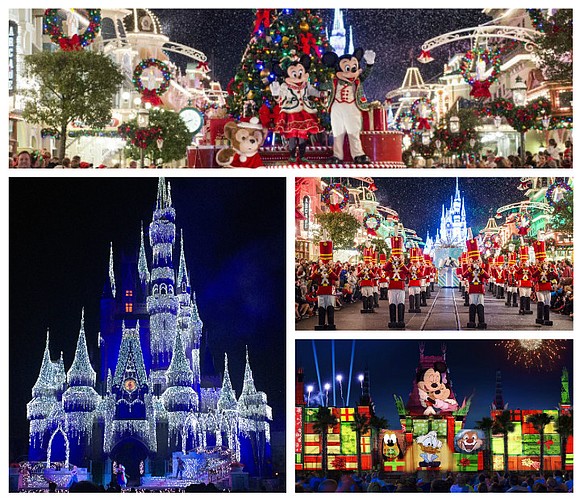 The holidays bring festivities all around, but no place does festive quite as extravagantly as Disney World. Orlando's Disney World Resort came to life this past week during the start of its jovial holiday season with new, old and enjoyable additions to its holiday lineup.
In a special presentation, Disney's Magic Kingdom resort comes to life with a fairy-tale display of fireworks, song and dance at the Cinderella Castle. Among the many popular Disney characters to make an appearance, the cast of Frozen appears first in an interactive show of "A Frozen Holiday Wish." Guests stand by as Queen Elsa transforms Cinderella Castle into a shimmering ice palace for the holidays.
There is no shortage of holiday entertainment for the entire family. Next on the list of magical shows that transform one of Disney's most beloved parks is the new show, "Mickey's Most Merriest Celebration." Mickey and friends host a cherished Christmas party with holiday songs and projections on Cinderella Castle as the backdrop, finishing in a snow-filled finale.
Mickey's Once Upon a Christmastime Parade fills the streets of Magic Kingdom with Mickey and his many friends along with special visits from the North Pole: Santa Claus, gingerbread men, elves reindeer and toy soldiers to light up the already colorful Main Street.
Disney completes their nighttime holiday show with a spectacular display of fireworks that not only lights up the sky and the entire Magic Kingdom but also ignites a childlike spark in the hearts of everyone engulfed in the experience.
Among all of the excitement and parks to experience, Disney's Hollywood Studios boasts one of the newest additions to their nighttime show line-up. "Jingle Bell, Jingle Bam!" made its premiere last week and runs through Dec. 31. The animated show features state-of-the-art projections against the Chinese Theatre background, fireworks and special effects. The event also includes a dessert party before the start of the show.
Despite the most intrinsic reason for a visit to the enchanting Disney World—unadulterated childlike fun for all at its many parks—another attraction is the Disney Springs outdoor shopping center. Disney Springs inspires its visitors to not only make a purchase but also to create a memory. This center boasts some of Disney's most classic shopping experiences and is also home to some of retail's most carefully curated stores aimed at those from every budget range.
Disney Springs hosts a wide selection of food types and caters to everyone's various food palettes. From delicious sweet treats at the Sprinkles cupcake store, which also has stores in New York City, to mouth-watering Burgers at D-Luxe Burger, a burger joint, which also caters to vegetarian/vegan diets with arguably one of the best vegetarian burgers on the East Coast.
Food is a large part of the enjoyable experience at Disney World. From quick fast food to a fine-dining experience, Disney Springs has it all. For an Asian excursion, Morimoto Asia boasts a wide selection of Asian cuisine, with a spectacular interior and an exterior overlooking the water and California-style pavilion.