Hurricane Matthew lashes Haiti with heavy rains
Catherine E. Shoichet and Max Blau, CNN | 10/4/2016, 11:29 a.m.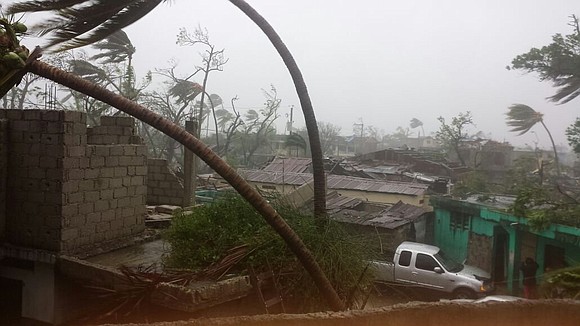 Editor's note: Are you affected by Hurricane Matthew? If it is safe for you to do so, WhatsApp us on +44 7435 939 154 to share your photos, experiences and video. Please tag #CNNiReport in your message.
(CNN) -- Hurricane Matthew pounded western Haiti Tuesday morning, packing winds of 145 mph as it made landfall.
The "extremely dangerous" storm has already killed at least three people, caused cruise ships to change course and prompted officials to declare states of emergency.
And officials have warned that the death toll could climb.
"We've already seen deaths. People who were out at sea. There are people who are missing. They are people who didn't respect the alerts. They've lost their lives," Interim Haitian President Jocelerme Privert said at a news conference.
The Category 4 hurricane made landfall near Les Anglais, Haiti, around 7 a.m. ET, according to the National Hurricane Center. An hour later, it was churning north across inland Haiti at about 9 mph, the hurricane center said.
Ferocious rain and wind were already thrashing the Caribbean nation before the storm made landfall. And forecasters said Tuesday that life-threatening flash floods and mudslides were likely.
Up to 40 inches of rain could be dumped on the impoverished nation, which is still recovering from a devastating earthquake that struck six years ago and a cholera outbreak after that.
In Les Cayes, Haiti, Mayor Jean Gabriel Fortuné said Tuesday morning that the storm was slamming into his city. He posted videos on social media that showed wind whipping through trees as heavy rains pelted people on the streets.
Eyewitnesses reported streets flooding in the capital of Port-au-Prince.
As Matthew drenched Haiti with dozens of inches of rain, Cuba, the Bahamas and the United States took steps to prepare for the storm's arrival in the coming days.
Forecasters predict the storm will move near eastern Cuba and over portions of the Bahamas later Tuesday.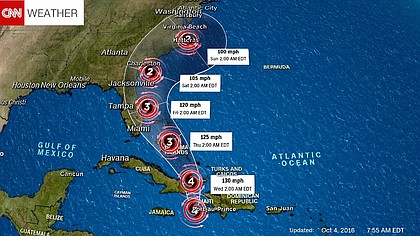 Death toll rising
Three people have died in incidents connected to Hurricane Matthew within the past week, authorities said.
In Haiti, Guillaume Albert Moleon, director of communications for the Interior Ministry, said one fisherman died on Sunday. A second fisherman is presumed dead, but his body has not been recovered.
In St. Vincent and the Grenadines, a teenage boy died in a landslide as he was cleaning a drain behind his house, according to Michelle Forbes, deputy director for the National Emergency Management Office. The boy died Wednesday after storms from Matthew passed over the island.
The hurricane could cause further devastation for Haiti as much of the country's infrastructure remains weak after the 2010 earthquake that killed more than 200,000 people.
John Hasse, the humanitarian aid agency World Vision's national director in Haiti, said 400 workers were there, ready to help rural residents whose poorly constructed houses could be leveled by the storm.
"It's not safe to stay in your house," Laura Sewell, CARE's assistant country director for Haiti, told CNN. "It's not a normal rainstorm. People need to move to shelters immediately."