2016 Labor Awards ceremony held in Harlem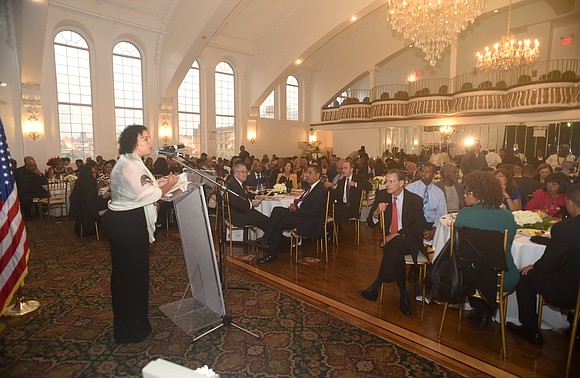 Movers and shakers from the city's labor movement took center stage at the New York Amsterdam News' "Tying Communities Together" 2016 Labor Awards held at the Alhambra Ballroom in Harlem. Union leaders, members and elected officials came together for the occasion.
Democratic presidential candidate Hillary Clinton kicked the breakfast ceremony off with a personal message of congratulations to this year's awardees and the Amsterdam News via video.
Among this year's honorees were New York Nurses Union President Judy Sheridan-Gonzalez, New York State AFL-CIO President Mario Cilento, labor lawyer and Democratic presidential adviser Harold Ickes, who received the Basil Paterson Award, and Iris Roman, executive assistant to 1199SEIU President George Gresham, who received a surprise award.
Service Employees International Union President Mary Kay Henry delivered this year's keynote address.
The highlight of the morning was actor and activist Danny Glover, who was on hand to receive the Bill Lynch Jr. Impact Award. During his acceptance speech he talked about his contributions to the labor movement, collective bargaining and justice.
Speaking to the AmNews, Glover said that his involvement with union and labor issues comes from his parents, who were unionized postal workers in San Francisco.
"I come out of a very strong union family," he said. "It shaped and molded my parents. They were transformed politically because of their work and commitment to the union as well. Historically, unions have been involved in elections. They are the door-knockers. They are the ones who go door-to-door encouraging people to vote. Unions have a major role."
Glover added that young people should be involved in this year's critical election.
"Each generation makes their own history and is judged by the history they make. This is the time for young people to make their history. It's a time for them to make a statement. Not in compliance with what has happened but the future they have to build for themselves," he said.
Several elected officials attended this year's event, including Congressman Charlie Rangel, Council Member Inez Dickens, State Sens. Leroy Comrie and Adriano Espaillat, former New York State Gov. David Patterson, Comptroller Scott Stringer and Public Advocate Letitia James.