Dr. Cornelius N. Dorsette, medical pioneer in the state of Alabama
Herb Boyd | 10/6/2016, 10 a.m.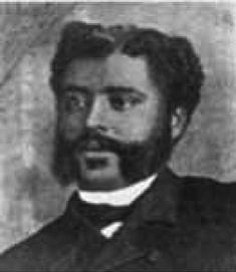 One of my loyal readers, after reading a Classroom profile on the famed architect Vertner Tandy, noted I had cited Dr. Cornelius Nathaniel Dorsette, his wife's father, as the first African-American to pass the Alabama medical examination. Her great-aunt, Dr. Halle Tanner Dillon, was the first Black woman and the first woman to pass the state's medical examination.
It appears to me that both are worthy of a fuller discussion in this column, which I will do, beginning with Dorsette.
If we are certain that Dorsette was the first licensed or certified Black physician in Alabama, we are less certain about the year of his birth. Various accounts of his life has it in a range of anywhere between 1851 and 1859. There is some problem, too, about his place of birth, although a consensus lists it as Eden, N.C., in Rockingham County.
According to the "Encyclopedia of Alabama," Dorsette was the first of David and Lucinda Dorsette's six children. Dorsette's father was a farmer, but he was determined that his children would get a good education and his oldest child later attended Hampton Institute, where one of his classmates was Booker T. Washington. He graduated in 1878.
It was while working as a driver and handyman for a doctor that Dorsette was inspired to seek a career in medicine, and he later enrolled at Syracuse University but was forced to drop out because of health problems. After recovery, the doctor who had employed and inspired him provided the financial assistance for him to attend medical school at the University of the City of New York. Because he was Black his application was denied, but he was later accepted at the University of Buffalo medical school, becoming the school's second African-American graduate in 1882, a year after Washington founded Tuskegee Institute.
For the next two years, Dorsette worked in a variety of medical professions, including the poor house and the insane asylum of Wayne County. There was also a stint at the psychiatric ward of the hospital in Lyons, N.Y. Through these positions, he was able to accrue enough money to repay his benefactor by 1884.
In 1883, while seeking Washington's advice about future locations and employment, the eminent leader suggested he move to Montgomery, Ala., where his services were in need and would be greatly appreciated. That was sound advice and Dorsette agreed, but upon arrival he was met with an obstacle that was a remaining vestige of Jim Crow. Moreover, the process was an arduous one, requiring the candidate to undergo six days of examination by either a county or state board of medical examiners. And all of the examiners were white men. Even so, Dorsette passed the exams and became the first licensed Black physician in the state.
Another obstacle confronting Dorsette was the reluctance of his own people to seek him out. The age-old adage that the white man's ice was colder and that Blacks, no matter the profession, were not as qualified as whites, kept potential Black patients away, even as he acquired a winning reputation in the white medical community.