Parents of Ramarley Graham file formal request for murdered son's documents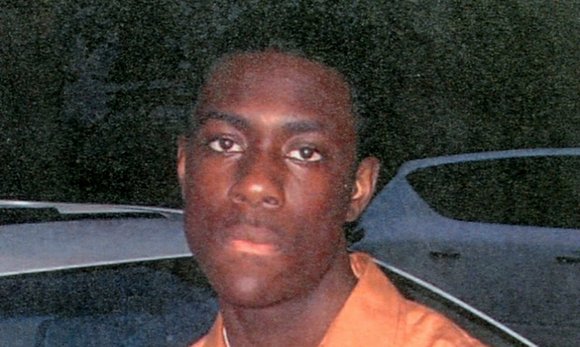 The parents of Ramarley Graham filed a formal request with the city last Thursday, Sept. 29, for the release of all official documents relating to their son's Feb. 2, 2012, killing by one of New York's finest.
"Over four and a half years after NYPD officers killed Ramarley, my family still doesn't have basic answers about the police misconduct against my family by 12-plus officers," stated Graham's mother, Constance Malcolm. "We don't know the status of NYPD investigations to hold them accountable, and in many cases, even their names. Mayor de Blasio has failed to live up to his words on policing and what he said the city should do right after Ramarley was killed when demanding a 'fair, speedy and transparent investigation' as public advocate."
In the Freedom of Information Law request, Graham's attorneys maintain that the city has withheld relevant evidence from them since the shooting occurred, thus one of the misconduct charges.
Previously unreleased surveillance video was leaked by the media last Thursday showing paramedics carrying Graham's lifeless body, laid out on a gurney, from his Bronx home. One paramedic covers Graham's face with the sheet draped over his body.
Graham's supporters are questioning why this footage was not made available sooner since it appears to come from the very same camera and angle as the footage previously made available, which showed Graham entering his home, with cops in hot pursuit who then frantically attempted to kick down his door.
Reports state, "Official records show that Graham was shot at 3:01 p.m. and died shortly after at 3:53 p.m. at the Montefiore Medical Center."
However, the family says the footage proves Graham died at home, rather than the hospital, estimating the actual time to be around 3:20 p.m.
"We know for a fact he died in the house," Malcolm proclaimed. "Why did they throw a sheet over him, and then peel it back? Because there were a lot of people watching, and they wanted to make it seem like he was still alive."
The 44-year-old mother added that police rearranged the crime scene. "It was important to know how the body was positioned, and they could have lost other evidence that was needed," she said.
In demanding a full investigation that leads to meaningful accountability—dismissal of all cops involved in misconduct—Malcolm has been pushing for de Blasio's office to reveal the names and charges against officers. She said she has not received a response. She is utilizing the Freedom of Information Law to force de Blasio's administration to release information and records and investigate misconduct.
"We are filing this request for City Hall and NYPD records to bring about the needed government transparency and accountability for police misconduct that is the key to ending these killings," Malcolm stated. "Mayor de Blasio's failure to hold police accountable for abuses and misconduct is exactly the problem fueling the crisis of police violence around the nation that continues to allow people to be unjustly killed by police here in NYC and elsewhere."