Rower releases $4.5 million rowboat to Equatorial Guinea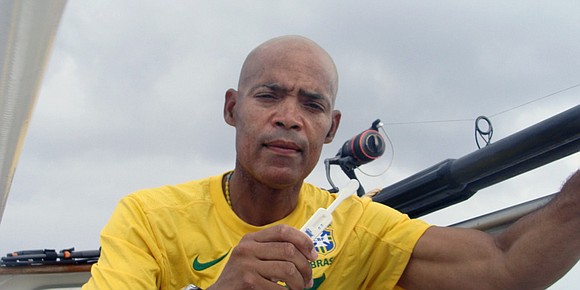 What's the first thing you'd want after rowing across the Atlantic?
"Cheesecake," said Victor Mooney, 50, of Flushing, N.Y., who did it, becoming the first African-American to row more than 5,000 miles from the coast of Africa to New York's Brooklyn Bridge.
He'd started rowing three times before, but only got as far as Brazil, where he was rescued from a small life raft. In 2015, even after sharks circled around him and ripped a hole in his boat, he made it across and headed to Juniors.
"The cheesecake was something I was happy to swallow," Mooney said. "It was something I always dreamed about."
When Mooney arrived at the Brooklyn Bridge, he was greeted by an ambulance and the Rev. Herbert Daughtry of the House of the Lord Church in Brooklyn. Rowing solo for approximately 21 months at sea can be "lonely," Mooney said. Luckily, Daughtry joined him for desert.
A year later, Mooney is donating the historic $4.5 million rowboat, the Spirit of Malabo, to Equatorial Guinea, a sponsor of his voyage, known as the Goree Challenge.
According to a press release sent to the AmNews, after the meeting of the United Nations General Assembly, H.E. Anatolio Ndong Mba, an ambassador for the Permanent Mission of Equatorial Guinea to the United Nations, will start the process of gifting the rowboat to the United Nations.
"Sometimes I would gain miles," Mooney said. "Sometimes I would lose miles. But it was never a race. It's about getting to the other side."
For 14 days during an attempted crossing in 2011, Mooney was stuck in a life raft after his boat took on too much water. He spotted a ship, but it didn't see him.
"I cried like a baby because I didn't want to die," Mooney said. With a waterlogged bible and gospel playlist at hand, Mooney was determined to survive the journey.
"There was one verse that was brought to me, Psalms 91: The lord is my refuge and my fortress, God planted his angels to protect me and my home," Mooney said. "From that point on, the fear of dying in the middle of the Atlantic ocean ... left me."
Near the end of his voyage, he had lost 80 pounds. When he ran out of food, he ate fish that jumped onto his boat.
"I turned it into a spiritual fast," Mooney said. "The finish line wasn't Saint Martin, it wasn't Haiti ... the finish line was the Brooklyn Bridge."
According to Mooney, The Spirit of Malabo honored the African bodies that were dumped into the Atlantic Ocean during the transatlantic slave trade.
Mooney says he rowed across the Atlantic for his late brother, who died of AIDS in the 1983. He hopes to raise awareness of HIV/AIDS testing and resources.
"Hopefully other youth can dream again," he said. "There is nothing wrong with dreaming. They don't have to row across the Atlantic ocean, but there is nothing that we as a people cannot do if we focus."