Nat Turner and Nate Parker in Harlem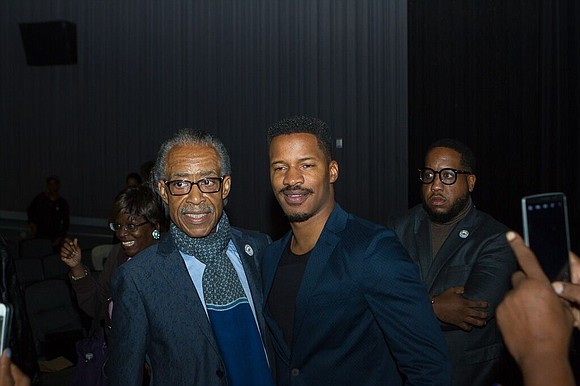 In contrast to the squirms the audience expressed during the beatings were the outbursts of applause when Turner and cohorts began their acts of retribution. The loudest clapping occurred when one of the white slave drivers is decapitated. Like some members of the audience in the same theater who talked back to the screen when "Django, Unchained" was shown, there were occasional screams that appreciated the turn of events.
At the end of the screening, Sharpton praised Parker, stating that he had taken the "the artistic and creativity he was given and invested it in telling a story that has not been told at this level …but the pain and suffering continues."
Before giving the microphone to Parker, Sharpton, without explicitly discussing the clamor that has surrounded Parker and his acquittal of rape charges in 1999, noted that his appearance in Harlem was about the film and nothing else. "The film is the focus point of this event," he said.
"When I grew up, I didn't have Nat Turner," Parker told the attentive audience. "There were stories about [Thomas] Jefferson and Eli Whitney and the cotton gin, but I never learned about people who looked like me and had a voice in the narrative of our liberation.
"For too long we have been miseducated about who we are," Parker continued, summoning some of the preaching he delivered in the film. "Nat Turner wasn't the only one who resisted. The legacy of Nat Turner means so much to me because it breaks the mental chain … that we have no value and that we waited for others" to bring about change.
Parker then congratulated Sharpton, saying that Sharpton "has stood up for us and we got to stand up for him. I am not a reverend—I am an artist so I put my art next to him and everything he stands for in this community."
It was a fitting tribute to two freedom fighters, one on film and one alive and well in Harlem. By the way, Parker was born Nov. 18, 1979. Turner was hanged Nov. 11, 1831.