Trump issues defiant apology for lewd remarks -- then goes on the attack
By Jeremy Diamond, CNN | 10/8/2016, 10:09 a.m.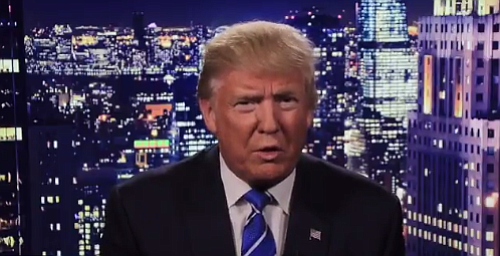 WARNING: This story and video contains graphic language.
Donald Trump apologized early Saturday for lewd and sexually aggressive remarks he made a decade ago -- and then made it clear he is girding himself for a nasty political battle.
The GOP presidential nominee posted a defiant 90-second video just after midnight on social media, telling voters that he is not a "perfect person" and that the words captured by a hot mic in 2005 "don't reflect who I am."
"I said it, I was wrong and I apologize," Trump said of footage from a previously unaired taping of "Access Hollywood" that surfaced Friday, in which Trump said he tried to "fuck" a married woman and bragged about being able to grope women because of his "star" status.
But Trump quickly pivoted back onto the attack, raising Bill Clinton's sex scandals and Hillary Clinton's role in discrediting women who had affairs with her husband.
"I've said some foolish things, but there's a big difference between the words and actions of other people. Bill Clinton has actually abused women and Hillary has bullied, attacked, shamed and intimidated his victims."
And in closing, Trump added ominously: "We will discuss this more in the coming days. See you at the debate on Sunday."
While Trump refuted the lewd terms in which he discussed women in the 2005 tape, the Republican nominee did not apologize for or address the behavior he said in that conversation that he engaged in toward women, including that he could "grab them by the pussy" and that he would sometimes "just start kissing them."
Trump's foreshadowing that he will raise Bill Clinton's affairs and sex abuse allegations from the 1990s "in the coming days" suggest that the Republican nominee is switching gears after suggesting as recently as Thursday night that he would not raise those scandals in the debate on Sunday.
"I think we're all better off if we can do that," Trump said at a town hall event in New Hampshire on Thursday night.
But the bombshell 2005 recording has now put Trump on his heels -- with Republicans warning of his demise -- and the brash billionaire appears prepared to do what he does best: punch back.
Shocking remarks
Trump is heard discussing women in vulgar terms during off-camera banter during the taping of a segment for "Access Hollywood," footage which was obtained by The Washington Post.
During the lewd conversation captured by a microphone Trump was wearing on his lapel, Trump recounts how he tried to "fuck" an unidentified married woman before bragging that he is "automatically attracted to beautiful (women)" and just starts "kissing them."
"Access Hollywood" later identified the unidentified woman as Nancy O'Dell, who used to work for the show. CNN has attempted to contact O'Dell's manager but has not heard back.
In the video, Trump uses the name "Nancy."
The conversation came months after Trump married his third and current wife, Melania.