Trump, Clinton wage scorched-earth debate
Stephen Collinson, CNN | 10/10/2016, 12:02 a.m.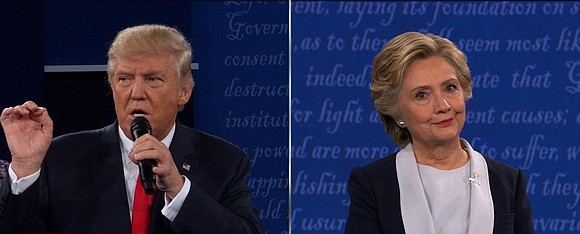 Video by C-SPAN
(CNN) -- Politics in America changed Sunday night.
The once sacred tradition of a presidential debate -- where candidates typically trade barbs over their vision of the country's future -- exploded into something quite chilling.
The Republican nominee seemingly dismissed the significance of the vulgar language he used toward women a decade ago, apologizing for his conduct but repeatedly saying his remarks were just "locker room talk."
With Hillary Clinton's husband and daughter watching from the audience, Donald Trump lashed into Bill Clinton's infidelities, calling him "abusive." Trump said he would appoint a special prosecutor as president to investigate her -- and even threatened that she would be jailed under his administration.
Clinton didn't take the bait. She repeated first lady Michelle Obama's philosophy articulated at the Democratic convention: "When they go low, we go high."
Trump went into the debate badly needing to recover from one of the worst weekends a major party nominee has experienced in modern presidential history. His performance -- seizing on Clinton's vulnerabilities related to her private email server and record as secretary of state -- could at least stop the panic that has consumed the GOP over the past 48 hours. But it's less clear whether his stern demeanor and prowling stage presence will expand his base of support beyond his most loyal backers, which won't likely be enough to win next month's election.
Clinton made clear that her trouble with Trump goes beyond the partisan clash typical of a presidential campaign. She said she spent much of the past 48 hours thinking about the video that shows Trump making lewd and sexually aggressive remarks about women. She said that she had differed before with Republicans over policy.
"I never questioned their fitness to serve," she said. "Donald Trump is different."
In another unusual twist, Trump slapped down his own running mate, Mike Pence, when the conversation turned to foreign policy. At last week's vice presidential debate, Pence said the US should be prepared to strike Syrian government targets to alleviate the siege of Aleppo.
"He and I haven't spoken and I disagree," Trump said.
That remark could further strain the relationship between Trump and Pence, which was severely tested over the weekend in the aftermath of Trump's comments on women coming to light. But after the debate finished, Pence tweeted he was "proud to stand" with Trump and congratulated him on a "big debate win."
Pacing the stage
Trump paced the stage for much of the debate, which was moderated by CNN's Anderson Cooper and ABC's Martha Raddatz. He frequently interrupted Clinton and had trouble standing still while she spoke, sometimes appearing in her camera shot.
He lost his composure at one point after a fierce exchange with Clinton about her emails, accusing the moderators of not addressing the issue even though Raddatz asked a question about it.
"Nice, one on three" Trump said, insinuating that the moderators were biased against him.