Colin Kaepernick to start Sunday for 49ers
Jill Martin, CNN | 10/11/2016, 2:22 p.m.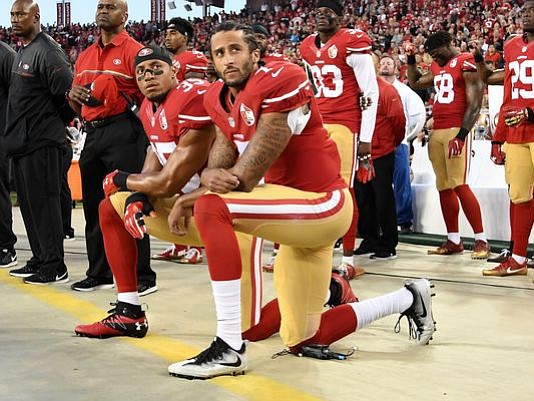 (CNN) -- San Francisco 49ers quarterback Colin Kaepernick, who sparked a national movement in sports by not standing during the national anthem to protest racial injustice, will make his first start of the season.
The announcement was made by 49ers head coach Chip Kelly on Tuesday. Kaepernick replaces Blaine Gabbert.
"We need to improve on the offensive side of the ball, and this is the decision we've made," Kelly said.
This will be Kaepernick's first start this season. The 49ers, who are 1-4, will be on the road Sunday to play the Buffalo Bills at 1 p.m. ET.
Kaepernick first made waves during a preseason game in August when he sat during the national anthem to raise awareness about racial issues such as controversial police shootings of African American men. Kaepernick has since said he's received death threats for his stance, which some see as unpatriotic.
But his protest has gained traction in the NFL and beyond in recent weeks, with college and even high school athletes taking a knee or sitting during the anthem.
Kaepernick has a notable supporter in President Barack Obama. The president weighed in last month on Kaepernick, saying, "I think he cares about some real, legitimate issues that need to be talked about and if nothing else what he's doing has generated more conversation around some topics that need to be talked about."