Jay Z is riding his TIDAL wave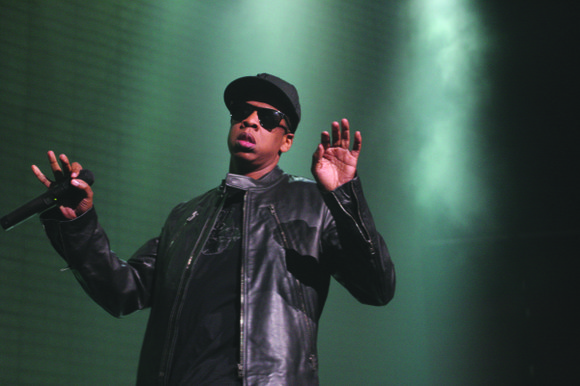 A year ago, global music and entertainment platform, TIDAL, raised upward of 1.5 million, divvied into grants for a select list of organizations promoting social and racial justice with their inaugural TIDAL X: 1020 Amplified by HTC.
Saturday, Oct. 15, TIDAL, along with New York City's largest poverty-fighting organization, Robin Hood, looks to significantly pass or at least match that number with TIDAL X: 1015, held at the Barclays Center. Underwriting sponsors include JETLUX and American Family Insurance, and 100 percent of all ticket sales will benefit Robin Hood and TIDAL-supported nonprofit organizations.
For the second go-around of the now annual philanthropic festival, funds for educational initiatives is the focus, and it features a who's who of talent, including the likes of Beyoncé, Alicia Keys, Nicki Minaj, Ms. Lauryn Hill, Common, TIP, DNCE, Robin Thicke, Emeli Sandé, Prince Royce and a host of other boldface-name artists set to donate their talents.
Although established names drive the ticket sales, new artists look to make their mark as viable stars and mainstay artists in their own right. Pay attention to acts such as Marc E. Bassy, Lil Yachty, Kevin Garrett, Danielle Bradbery, Dave East and Levi Carter as they look to cut their teeth on the mainstage.
Straddling that fence of star and newcomer is Sir the Baptist, a young man who just a few months ago made national news with his performance at AFROPUNK, ironically in Brooklyn, when he was able to teach and preach to a Donald Trumpish figure, impersonator Bob DiBuono. "At AFROPUNK I was a little more political and I felt the need to address something in particular that was going on," he said of the show-stealing performance that garnered plenty of attention. With those new eyes came new fans. One in particular knows a few things about utilizing hip-hop as an art and may know a little about Brooklyn. After his set at the Made In America Festival, a fan came backstage to acknowledge his work. That "fan" was also the curator of the event and boss of TIDAL, Mr. Shawn "Jay-Z" Carter. Of the meeting Sir the Baptist shared, "I'm not the most popular artist out right now, but Jay spoke to me and told me he appreciated my work. The story, the vision, the purpose, the music. If a few people hold on to that, it could take me as far as I need to go."
While touring the country on festival stages this past summer/fall season has built a staunch following, a few key songs have piqued the interest of what the forthcoming album could sound like. While diligently working to complete the album, he wants to make sure it's right. "With this piece I'm trying to holistically heal hip-hop of some of the its deeper issues and it's going to take some time," he assured.
If you're presently not knowing, the new single, the Donald Lawrence produced "What We Got," "Wake Up" and "(Creflo) Almighty Dollar," might serve as the bait, but the gem "Raise Hell" might be the joint that hooks you. The track was nominated for a 2016 BET Hip-Hop Award for Impact Track of The Year and is gonna get a few more new ears with the new remix of the track featuring Killer Mike that's on the album inspired by the film "The Birth of a Nation." Why that song? He replied, "Nate Parker came and asked me to do it, he said this the song that spoke the most. It already has a movement and it's an open letter to the streets and the church."