Monterey Jazz Festival—Cold nights, hot music
Ron Scott | 10/13/2016, 11:58 a.m.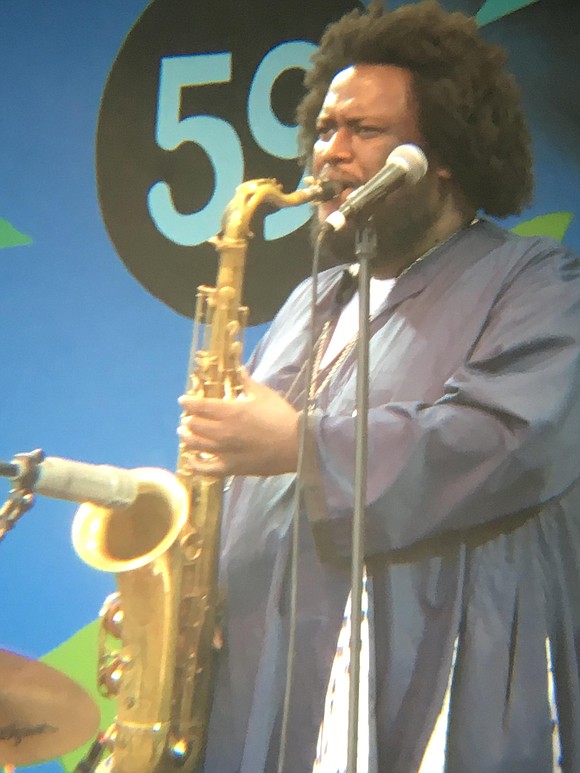 While waiting for my Monterey flight in the Los Angeles Airport, I noticed a familiar person sitting quietly to my left. It was astonishing that the multitalented Quincy Jones was not being harassed by those
sitting near him or walking by.
I went right over and introduced myself. We had a nice chat about the festival and his being honored at the 59th annual Monterey Jazz Festival (Sept. 16-18), "Celebrating Quincy Jones the A&M Years."
At that point, it was apparent that my first visit to the MJF was going to be one of those walking in space moments.
The following evening, the MJF board of directors hosted their 10th annual Jazz Legends Gala fundraiser at The Inn at Spanish Bay (the only thing missing was the red
carpet and paparazzi).
The filmmaker, actor and jazz man Clint Eastwood presented the Jazz Legends Award to Jones, the 27-time Grammy award winner. He stated, "Quincy's music is God's voice."
Jones humbly accepted the award, noting, "Jazz ain't going nowhere, and at 83 I feel like I'm just getting started." He also praised young talented musicians such as Joey Alexander and the Next Generation Jazz Orchestra, "who assure us the music will move forward."
Alexander's performance with his trio, bassist Dan Chmielinski and drummer Ulysses Owens Jr., received a rousing standing ovation. His being only 13 years old was a factor, but his playing of a Thelonious Monk tune and Coltrane's "Giant Steps" impressed the audience.
He has grown since last year and now stands on occasion when the music gets good to him, like Monk. He stated, "Thanks for supporting this music, which is not very easy to play." Although he
makes it seem effortless.
Sept. 16 was the beginning of the mad jazz festival rush. My mission on the Monterey Fairgrounds was attempt to see more than 115 performances in six venues that included a variety of music from tributes, big bands to piano trios, fusion, straight-ahead jazz, blues and world music along with a string of conversations, films and exhibits.
Seeing all those acts didn't happen, so here are some highlights. The Jimmy Lyons stage (the largest stage) was filled to capacity on that cold Friday evening with many folks wearing down jackets and others covered with blankets.
They were enthralled by the versatile vocalist Cecile McLorin Salvant and Trio, featuring pianist Aaron Diehl, bassist Paul Sikivie and drummer Lawrence Leathers.
Salvant is a daring jazz vocalist, who can engage in a blues and shout song such as "John Henry" and easily move into show tunes such as "Wives and Lovers" and "If a Girl Isn't Pretty."
The international bassist Richard Bona took the stage with Mandekan Cubano. The vibes were hot and the horn section was steaming with Cuban reflections.
The evening concluded with the tribute to Quincy Jones, featuring the MJF Orchestra with guest musical director Christian McBride and conductor John Clayton. Their repertoire featured music from Quincy's three legendary albums "Walking in Space," "Gula Matari" and "Smackwater Jack."