'Mubassa's Dream' takes flight in Harlem
Herb Boyd | 10/13/2016, 10:52 a.m.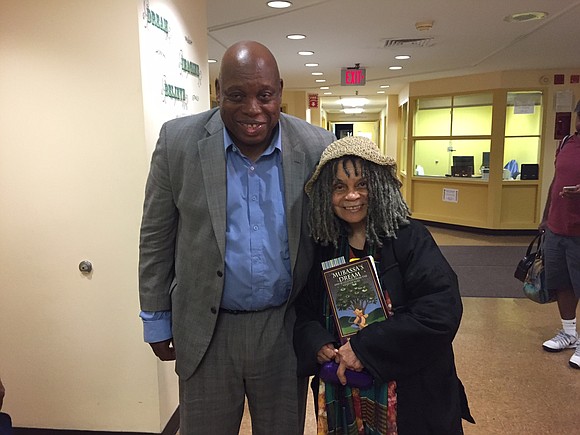 Dr. John (Satchmo) Mannan's book, "Mubassa's Dream—And 18 Legends from the Land of Nod" (Aladdin's Books International, 2016), in many ways mirrors the diverse interests and passions of the writer. He is an author, educator, lawyer, historian, musician and storyteller, in a word, a griot with roots in Harlem and a global vision. His book is an amusing collection of allegory, parables, haikus, poems, legends, nursery rhymes, metaphors and, most rewardingly, morality tales that touch
on eternal truths and values.
Both Mannan's versatility and the book's literary miscellany were amply discussed last week at the College of New Rochelle's Rosa Parks campus. Joining him was a musical ensemble and the renowned poet/author Sonia Sanchez, who wrote the book's Introduction.
In her remarks, Sanchez cited the importance of reading to our children, particularly bedtime stories. She dwelled on Mannan's words that "Bedtime stories must soon grow up and go to college someday, but their infancy and early steps are composed of greatly treasured memories." To her, the book "in time can be much more than a fantasy classic or classic fantasy." She added, "It is a poem of wisdom and song of wonder."
Several professors at the college were invited to read segments from the book, and from their readings the students gathered some notion of Mannan's style, his way of taking the timeless tales of our youth and giving them fresh meaning. "The Bear Who Would Be a Man" is exemplary, and to some degree it is reminiscent of the Uncle Remus stories with a dollop of
Orwell's "Animal Farm."
Talking bears, raccoons, owls and earthworms animate the tale, as do marching trees. When Mubassa, the bear club, expresses his dream to be a powerful man, who protects, sows, reaps and does all things that men do, the raccoon says, "You can't be all those things at once. You can't be good and evil. Night and day do not sleep on the same bed. Besides, you are a bear club. You should try to be the very best bear you can be. Learn who you are, learn what you can be, bear your path and reach the stars."
The lessons for Mubassa are lessons Mannan dispenses beyond the many allegorical stories that abound in his fascinating compendium. Not only are there sendups, parodies and shades of William Shakespeare, who in Mannan's imagination walks the streets of Harlemia as William Sheik Sabir, but also the poet Edgar Allen Poe's "The Raven" is summoned
and given a poignant twist.
"Once upon a night's dictation
I felt and heard a strange
sensation
A voice that stabbed and
stuttered
A sound which rent my heart a-flutter
At its ragged seams."
This opening stanza encapsulates Mannan's way with words and his long and intimate ties to American and world literature. It would take a review twice this length to do justice to a talent who with each of his books gains more followers. And this expansive coterie of readers will also appreciate the illustrations in the book by James Balkovek.
If his music—and you can experience that each Monday evening at Nabe Harlem, 2637 Frederick Douglass Blvd.—is anything like his words, then each note will give you another delightful perspective
on the Land of Nod.