Afropunk attends New York Comic Con
VLADIMIR ESTIMABLE | 10/20/2016, 10:09 a.m.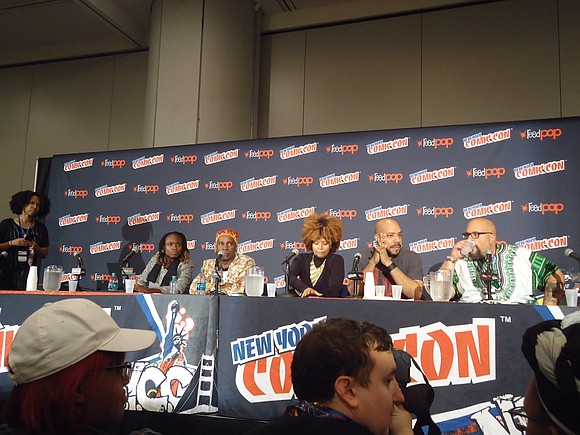 Once again the Jacob Javits Center opened its doors to the public for Comic Con, which gathers comic lovers from all walks of life. And in recent years, Comic Con has grown to include much more than just comics. Comics are so interesting as an artistic medium because of the factors that influence their creation. It could be social politics, the music of the time or the works of other authors and artists, all of which put a hand in the process of creating a comic.
This year Afropunk (which is known to most for its own festival) had a panel at Comic Con, discussing the cultural importance of African-American views within today's pop culture. Some featured speakers included David F. Walker, writer of the popular "Marvel's Power Man and Iron Fist"; Dr. Sheena Howard, author of the Eisner-winning "Black Comics: Politics of Race and Representation"; John Jennings; Ytasha L. Womack, author of the critically acclaimed "Afrofuturism: The World of Black Sci-Fi and Fantasy Culture"; and Vernon Reid and Corey Glover of the famous band Living Colour. The speakers discussed their life experiences and how those experiences affected
their artistic work.
On the topic of what it means to be "Afropunk" or "Blerds" (Black nerds), Walker said that for him, it referred to when African-Americans take interests in topics or genres outside of what mainstream society deems appropriate or "normal" for them to be into. The term "Blerds" is in and of itself a precursor to what Afropunk is today. Martin Luther King was a "Blerd" even though that term didn't exist at the time. MLK was into all forms of what is now nerd culture. He was a huge fan of the original "Star Trek" TV series and expressed to Nichelle Nichols the great importance of her role and why
she shouldn't leave the show.
Walker also went into detail on growing up Black without many characters in comics, movies, TV or even music (until Living Colour) that he could relate to. This experience became a driving force for his actions today, such as writing for Power Man and Iron Fist.
Womack described Afropunk as being, in a sense, "Afrofuturism," in that it combines elements of science fiction, historical fiction, fantasy, Afrocentricity and magical realism with non-Western metaphysics in order to critique not only the present-day dilemmas of people of color, but also to revise, interrogate and re-examine the historical events of the past.
Glover and Reid described their experiences when they first started out as a band. Mostly around southern parts of the Midwest and the South, a great number of people just assumed they were a rap group or a jazz band. People could not wrap their heads around the idea of an all-Black rock band.
Without these particular pioneers, including a great number unmentioned, we would not have the diversity in mainstream media that we have today. All of the speakers in the panels agreed that it's not about race or them being African-American when creating something artistically. That mentality limits their mindset while they work. It's better to work on what you love to do first, and what you are on the outside comes second.
If you would like more information or to read some of these speakers' works, you can check out www.newyorkcomiccon.com. You can also visit comic book stores such as Midtown Comics for Walker's work and any Barnes & Nobles or local bookstore for Womack's work.