FDNY ignores claims of racism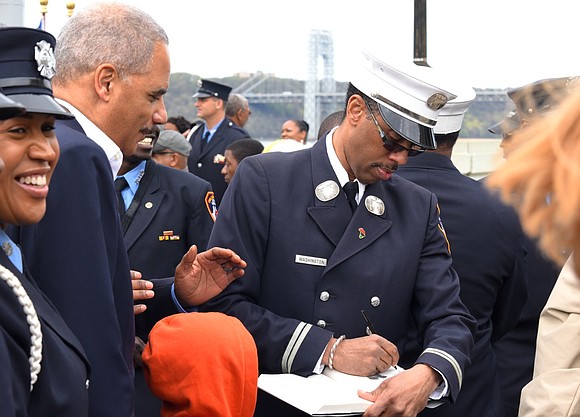 It appears the largest predominantly white fire department in the United States hasn't learned its lesson yet. Last week, 10 African-American non-uniform civilian employees who work for the Fire Department of New York City held a news conference to announce that many Black employees have been subjected to a continual, widespread pattern of workplace harassment and subtle forms of discrimination at the hands of their white managers.
The employees, calling themselves the Concerned Civilians Against Discrimination, filed a complaint with the Equal Employment Opportunity Commission in August that alleges the FDNY practices, "a dual salary system in which Blacks are hired at lower salaries than whites, and in which Blacks are denied discretionary salary increases, and Black managers are paid at a lower salary level than white clerical employees."
The complaint also articulates how white employees, who are paid higher salaries, don't share the same heavy work assignments as Black employees and that some high-level white managers in key positions are unqualified.
"I have been an administrative manager for 15 years," said Frances Dempsey, a 62-year-old African-American woman who has worked for the Fire Department for the past 41 years and one of the FDNY civilian employees named in the EEOC complaint.
"There have been at least three white male managers hired sometime after me in the same civil service title that make more money than me."
Statistics show the FDNY employs approximately 17, 000 employees, including approximately 12,000 firefighters, 3,000 EMS employees and 2,000 civilian employees. The Department employs approximately 100 civilian managers, excluding EMS employees.
"I know some of these people personally, and they have complained about these problems for years and those problems remain unresolved," said Capt. Paul Washington. "It seems that the FDNY doesn't do what they are supposed to do when it comes to their Black employees."
In 2007, Washington, former president of the Vulcan Society, the fraternal order of Black firefighters, filed a discrimination complaint against the FDNY with the Equal Employment Opportunity Commission.
In 2014, Brooklyn U.S. District Judge Nicholas Garaufis finalized a controversial ruling that found the FDNY guilty of discrimination after the Vulcan Society successfully challenged the methodology of the entrance exams. Garaufis awarded $98 million in damages and mandated the FDNY to appoint a court monitor to ensure that the department goes beyond rewriting its firefighter exam.
The EEOC complaint on behalf of 10 FDNY civilian employees also proposes that a monitor be appointed to oversee the civilian arm. Washington said that this new complaint is like a flashback. "I went down this same road in 1999," he stated. "It took a long time and well over 100 million of the taxpayer's dollars for things to be resolved." 
In a statement, FDNY Deputy Commissioner Frank Gribbon said that the FDNY had not seen the EEOC filing yet but "will treat it as we would any serious complaint."
He added, "Commissioner Nigro has implemented extensive and unprecedented progress toward increasing and improving diversity, inclusiveness and fairness throughout the agency—amongst all employees, civilian and uniformed."