Reel Sisters kicks off film fest
10/20/2016, midnight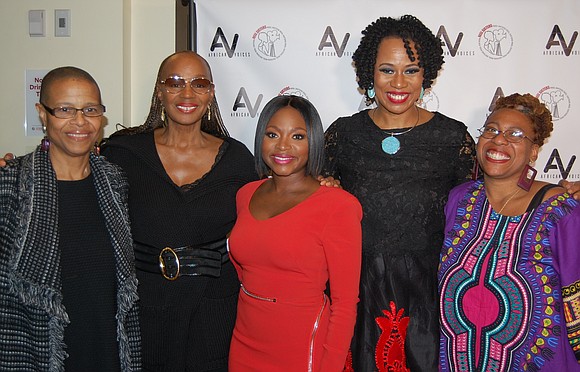 Reel Sisters of the Diaspora Film Festival & Lecture Series will present more than 40 films that are guaranteed to inspire, uplift and spark conversations among family and friends. The festival will be held Oct. 22-23, 2016 at LIU's Brooklyn campus, at Flatbush and DeKalb avenues. Screenings will take place in the Salena Gallery's screening rooms. For schedule and tickets, visit reelsisters.org or call 347-534-3304/212-865-2982.
Reel Sisters recently kicked off the festival at the Schomburg Center in Harlem with a moving tribute to media pioneer Cathy Hughes, founder of Radio One/TV One, and Naturi Naughton, award-winning actress noted for her role as Tasha St. Patrick in the hit Starz drama "Power." Kim Coles, the mistress of ceremonies, performed an excerpt from her one-woman show in tribute to the honorees. Vocalists Kimberly Nichole ("The Voice") and Meli'sa Morgan gave stirring performances. The festival continues this weekend in Brooklyn, where 40 films will be showcased. For the schedule, visit reelsisters.org or call 347-534-3304/212-865-2982.
Kevin John Goff, Hattie McDaniel's great-grandnephew, joined Council Member Williams and TV One contributor and on-air personality Dyana Williams in presenting the Reel Sisters Hattie McDaniel Award to Hughes. The Reel Sisters Trailblazer Award was presented to Naughton by fashion designer Kyemah McEntyre.
"There would have been no liberation had it not been for Black media," said Hughes. "Black media is unifying force. It is an informational force. It is a motivational force, but more importantly than anything else, it is the only vehicle we have that can tell our story from our perspective and get it right. It is not any other culture's responsibility to tell our story."
The celebration was attended by actress Phyllis Yvonne Stickney, flutist Bobbi Humphrey, Nana Camille Yarbrough, former Essence magazine Editor-in-Chief Susan Taylor, beloved author/public relations agent Terrie Williams and other notable guests who took part in an invitation-only red carpet event before the awards ceremony.
Film lovers can join the festivities this weekend in Brooklyn, where a wide range of exciting and powerful films will be showcased.
Some of the notable films screening this year include "Amenze: In Between Worlds" (Trailer: https://vimeo.com/148269413), about a sex worker who reclaims her real identity in Brazil; "Til Death" (Trailer: https://youtu.be/HIve6Ny0x7o), the story of two orphaned Liverpool girls who form a life bond; and "Fanny Pack," a comedy about a young Indian-American woman who clashes with her fanny pack wearing dad in an airport. Some documentaries in the lineup are "Soul City" (Trailer: https://vimeo.com/166083635), an inspiring story of civil rights activists who build a Black town in the 1970s; "Queen Nanny: Legendary Maroon Chieftainess" documents an 18th century heroine who defeated the British in Jamaica's fight for independence; "Holding History: The Collections of Charles L. Blockson" (Trailer: https://www.youtube.com/watch?v=-VXcHJPbd00), a scholar's story of preserving one of the largest collections of historical books and artifacts by people of African descent; and "PLUS!" (Trailer: https://vimeo.com/127557333), five plus-sized models challenge the fashion industry to recognize that 65 percent of American women are a size 14 or larger.
On Oct. 22, 8 p.m. in the Spike Lee Screening Room, New Voices in Black Cinema will join Reel Sisters in screening "Chapter & Verse" (Trailer: https://vimeo.com/138367942) starring actress Loretta Devine. Produced by Cheryl Hill and directed by Jamal Joseph, "Chapter & Verse" tells the story of reformed gang leader Lance Ingram, who returns home to Harlem after spending eight years in prison. Lance befriends Ms. Maddy (Devine), a 60-year-old strong spirited grandmother. He assumes responsibility for her 15-year-old grandson, a promising artist who has become involved in a Harlem street gang.