Reel Sisters kicks off film fest
10/20/2016, midnight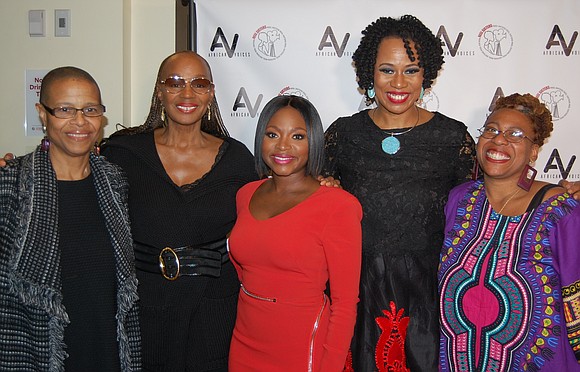 Film lovers can take a break from a day of film viewing to enjoy the festival's lecture series panel. Saturday, Oct. 22, at 3:45 p.m., Moikgantsi Kgama, founder of Imagenation Cinema Foundation, will moderate "Women Owned Production Panels," a conversation with industry professionals who are producing their own film and media content. From Oprah to Viola Davis, women of color are taking their destiny in their own hands by launching production companies. Guests are Tracey Baker-Simmons, CEO of HWY58MEDIA; Rochelle Brown, executive producer/principal of Powerhouse Productions; and Barbara Bullard, founder of B-Bullard, LLC.
Sunday, Oct. 23, at 2:06 p.m., Reel Sisters will host #FilmAFeatureIn8Days: Microbudget Filmmaking with Nicole Franklin, the director of "TITLE VII," a microbudget film shot in eight days. The award-winning filmmaker is a career documentarian who also produced a number of narrative shorts after the feature documentary that launched her career. She will share the essentials of producing and directing an affordable feature film heading into distribution. The workshop is free and open to the public.
Reel Sisters Film Festival offers affordable ticket prices. A one-day pass is $20 and a section pass is $10. Purchase tickets at the website www.reelsisters.org.
A Brooklyn-based film festival founded by African Voices magazine and LIU Brooklyn, Reel Sisters is dedicated to supporting women of color filmmakers. The Reel Sisters of the Diaspora Film Festival is supported, in part, by New York City Council Members Council Members Jumaane Williams (35 C.D.) and Laurie Cumbo (45 C.D.), National Endowment for the Arts, New York State Council on the Arts, New York City Department of Cultural Affairs, Brooklyn and Harlem ALOFT Hotels, Centric/BET Networks and Brooklyn Arts Council. Imagenation Cinema Foundation, Akila Worksongs, New Voices in Black Cinema, Tilsa Wright, Hollywood's Black Renaissance: Women of the African Diaspora in Film & Television, Kumble Theater, LIU Alumna Association and LIU Brooklyn's Media Arts Department are community partners.