Roland Martin kicks off 'School Choice is the Black Choice' initiative at Howard University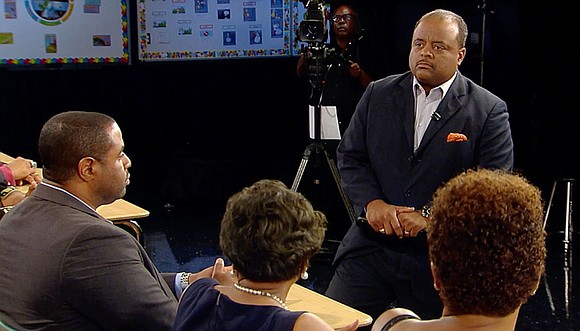 TV One's NewsOne Now – the first morning news program in history to focus on news and analysis of politics, from an explicitly African American perspective – aired a special town hall entitled "Roland Martin Presents: Is School Choice the Black Choice?" on Friday, Oct. 21 at 7 a.m. ET. The town hall which took place at Howard University on Oct. 5, 2016 explored the importance of school choice for African-American children. Part two of this town hall will air next Friday, October 28 at 7 a.m. ET.
The two-hour panel, which Martin moderated, featured a variety of educators, advocates and opponents of educational reform to discuss the controversial issue of charters, vouchers and the school choice movement within the Black community. Among those on the panel: Dr. Steve Perry, Principal of Capital Preparatory Magnet School; George Parker, former President of the Washington Teachers Union; President of Democrats for Education Reform, Shavar Jeffries ; former director of DC Association of Charter Schools Dr. Ramona Edelin; President of the Washington Teachers Union, Elizabeth Davis; Director to the NAACP's Washington Bureau and Senior Vice President for Advocacy and Policy, Hilary O. Shelton; President of Medgar Evers College, Rudy Crew; Dr. Dawn Williams, Interim Dean of the School of Education at Howard University and Troy LaRaviere, former Principal at the number one rated neighborhood school in Chicago.
School Choice Is The Black Choice is a national initiative designed to rally Black parents to take control of their children's future. Roland, along with his wife, the Rev. Dr. Jacquie Hood Martin, have launched School Choice Is The Black Choice, through her non-profit, J. Hood and Associates.
As an ambassador of the school choice movement, Roland Martin says it's imperative that Black parents fully embrace all aspects of education, and advocate for what works best for their children. He says that the school choice/ed reform movement desperately need Black voices leading it, especially when it comes to mobilizing and organizing African Americans to make their voices heard about the education of their children.
"If you are standing in the way of kids getting a quality education, even if you wear the liberal/progressive label, you are the enemy," said Roland Martin. "I'm sick and tired of seeing Black kids travel through traditional schools with little or no road to success. I'm a product of traditional public and magnet schools. For me, I care about what works. Traditional public, charter, private, magnet, home school, online schools, vouchers, I really don't care. If it works for the parent and the child, I'm down with it."
Martin has long been an advocate on education issues, speaking at numerous education conferences across the country, including opening the National Charter School Convention in Nashville this June; hosting a number of discussions on his radio, TV and social media platforms; and rallying Blacks to get behind school choice in Tulsa, Chicago, Atlanta, Memphis and Nashville.
Roland Martin is also a board member of 50Can, a nonprofit education organization that works at the local level to advocate for a high-quality education for all kids, regardless of their address. He previously served on the board of StudentsFirst, an education advocacy non-profit launched by noted education, Dr. Michelle Rhee (it merged with 50Can this year).