Misty Copeland on ABT's fall season, diversity in ballet
Zita Allen | 10/27/2016, midnight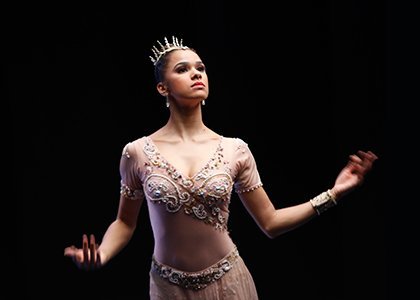 Misty Copeland's performance at American Ballet Theatre's fall 2016 Gala Thursday, Oct. 20, was a delightful display of classical ballet at its most technically challenging and musically responsive.
Copeland was one of six dancers in Sir Frederick Ashton's "Symphonic Variations" which, unlike last season's "Firebird," "Swan Lake" or "Romeo and Juliet," is an 18-minute marathon highlighting not plot, characters or scenery but classical ballet, plain and simple and simply beautiful. Onstage throughout the entire ballet, Copeland crisply executed ballet's building blocks—arabesques, attitudes, développés and port de bras—with the dispassionate precision the dance required. In addition to her display of style and stamina, the dance resonated on other levels. When it premiered in 1948, "Symphonic Variations" featured two legendary ballerinas, Margot Fonteyn and Moira Shearer, whose careers Copeland echoes. Her dramatic ability and musicality at times recall the legendary Fonteyn. Copeland's career trajectory seems capable of mirroring the trajectory of Shearer, who starred in the 1940s motion picture classic "The Red Shoes," a film that prompted generations of young girls to dream of becoming ballerinas.
In fact, while it's anybody's guess as to just how many Misty-inspired Black and Brown youth were among the 150-plus JKO School students, Studio Company members and apprentices onstage for the gala's opening piece, it's a safe bet there were a few. The event's emcees, ABT principal dancers Gillian Murphy and Marcelo Gomes, even mentioned ABT's diversity initiative and the Copeland-championed Project Plié in their opening remarks. It's no secret that Copeland's contributions have resulted in a more diverse audience at ABT performances as folks flock to see the ballerina who shattered the glass ceiling in one of the country's two major ballet companies.
A day before ABT's fall season opened, Copeland still seemed to be pinching herself even while not letting grass grow beneath her feet. In response to a request to compare this season's offering with last season's spate of story ballets, Copeland said, "It's a different experience for the audience. In many ways it might be easier to follow when you're dealing with a ballet that's telling a story the way the classical ballets do." The fall season's ballets tend to be more contemporary. Even if they were created decades ago, like the Ashton works, they exemplify current choreographic trends and are sometimes difficult for dancers to do and hard for audiences to follow. Copeland explained, "Ashton's 'Symphonic Variations' and 'Monotones' are both beautiful but equally difficult and demanding for the dancer. It's such a different style of movement … I love the way the movement complements the music and feel that the music really shines in most of Ashton's works."
Copeland's excitement is also evident when talking about the world premiere of visual artist Jessica Lang's work, "Her Notes." "I've actually known Jessica for over a decade," Copeland said. "Her movement is a way of working that's very interesting because she's not a classical dancer. I absolutely love it."
This is an extraordinary time for Copeland. She is able to bask in the glow of a career that so many before her dreamed of but found unattainable because they were Black or Brown. She has also opened the eyes, hearts and minds of folks who were until now incapable of imagining ballerinas who look like her. In truth, given the country's ever-changing demographic, this is a win-win for ballet dancers, companies and audiences.