Misty Copeland on ABT's fall season, diversity in ballet
Zita Allen | 10/27/2016, midnight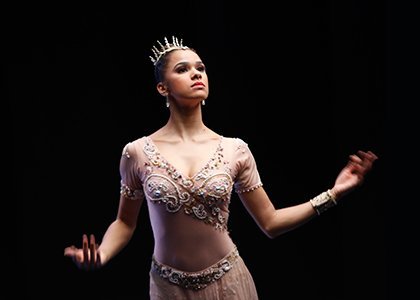 In addition to fulfilling her ballet dream, a host of opportunities are coming her way. Of course, Copeland's manager and publicist Gilda Squire says that when she's in the studio or onstage it's all about her first love—ballet. Still, with a remarkable combination of drive, energy and business savvy, this woman is not resting on her laurels. (Of course, no one gets anywhere in a career as demanding as ballet by resting on their laurels.)
A glimpse of what Copeland has done since being promoted to principal as well as what's in store for her is mind-boggling. In 2014 there was a biography, "A Life in Motion: An Unlikely Ballerina." Last year, there was the movie "A Ballerina's Tale," the children's book "Firebird," the Broadway appearance in the musical "On the Town," the Misty-inspired Barbie Doll, the launch of a dance-wear line and more.
More recently, July 31, Copeland married sweetheart Olu Evans. Sandwiched between ABT's Los Angeles and Paris performances and the current New York season, she guest starred on PBS KIDS' Emmy-winning series "Peg + Cat" and appeared in photographer Gregg Delman's newly released book, "Misty Copeland." She even took the time to answer social media Photoshop rumors, saying, "No altering was done to my body. I'm happy and proud of my body and would never participate in changing it." In addition, Seiko is issuing a "very limited edition Misty Copeland watch that is pink and decorated with a tiara design." Misty is also preparing to make a State Department-sponsored trip to Cuba, where she'll meet the legendary ballerina and Ballet Nacional de Cuba founder Alicia Alonso and teach master classes at the company school. She is also slated to guest star in "Romeo and Juliet" with Italy's famed La Scala Ballet. As if that isn't enough, Misty excitedly announced that in November she and one of ABT's outstanding African-American male dancers, the elegant, charismatic long-limbed Calvin Royal III, will perform "Cinderella" in Houston, Texas, with the Open World Dance Foundation.
On top of it all, Copeland still finds time to talk to aspiring young dancers about overcoming the odds and pushing through adversity to achieve a dream. She commented on the fact that this talk about diversity in ballet has not died down.
Copeland explained, "I don't want to see it die down. I want to do something that makes it relevant. It's so important. It's not something that's going to change because one year we have all these things happening. These conversations and doing this work helps create change. I've been asked if it annoys me to be always referred to as an African-American ballerina. No, you're still at that point where we have to be reminded. It can't be pushed aside." She is right.
As ABT's brief season at Lincoln Center's David Koch Theater winds down, you can still see Misty Copeland perform. She is slated to dance in Jessica Lang's "Her Notes" Oct. 28 and in Ashton's "Monotones I and II," Saturday, Oct. 29, matinee (2 p.m.) and evening (8 p.m.), and in "Symphonic Variations," Sunday, Oct. 30.